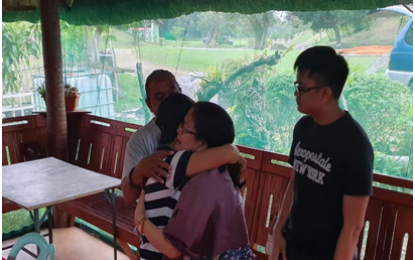 CAMP GEN. ALFREDO SANTOS, Calauag, Quezon -- A New People's Army (NPA) amazon whom human rights group Karapatan claimed to have been abducted by the military, surrendered to the authorities in General Luna town, Quezon on September 15.
Lt. Col. Arnold L. Gasalatan, commanding officer of the Army's 85th Infantry Brigade (85IB), on Monday said the 24-year-old student activist-turned-communist rebel, identified as Alexandria Padilla Pacalda alias "Cosette/Cris", voluntarily turned herself in to combined Army and Philippine National Police (PNP) personnel.
Gasalatan denied allegations by leftist groups that Pacalda was abducted by the military.
"There is no abduction here. We understand that she has been fed with stories of torture if she goes to the military or the police that is why we immediately sought for her immediate relatives upon learning of her surrender because we want her to feel safe," Gasalatan said.
He said Pacalda was a member of the Platoon Sol, Sub- Regional Military Area (SRMA) 4B, Southern Tagalog Regional Party Committee (STRPC).
He added that Pacalda also turned over her Smith and Wesson revolver (Serial Number 7288) with six live ammunition and other paraphernalia to government troops.
According to Pacalda's father, Arnulfo, his daughter Alexa, the eldest of three siblings, graduated with a degree in Mass Communications. He said their family had no knowledge of her whereabouts until her surrender.
Pacalda was reportedly a student of Enverga University in Lucena City, Quezon where she was an active member of the Gabriela Youth and the College Editor's Guild of the Philippines (CEGP) before joining the NPA.
Col. George Joel N. Lalaquil, officer-in-charge of the 201st Brigade (201IB) which has operational jurisdiction over Quezon province's 3rd and 4th Districts, said Pacalda could avail of the government's Enhanced Comprehensive Local Integration Program (E-CLIP) as she returns to mainstream society.
"We are winning the campaign and the NPAs are vastly losing people's support. We will sustain our gains until they are defeated the soonest possible time. Rest assured that NPAs who desire to surrender will be processed to avail of the E-CLIP," Lalaquil said.
Under the E-CLIP, a surrendered rebel can receive PHP15,000 immediate cash assistance, PHP50,000 livelihood assistance, firearms remuneration, and access to housing, medical and legal assistance, among others.
The program for surrendered and processed rebels also includes educational benefits which can even be extended to their immediate family members.
Meanwhile, the group behind "Hands Off Our Children", on its Facebook post, said "it's really heart-warming to see the parents reunited with their daughter after she surrendered to the troops in Quezon province. It's been a while that the family of Alexa doesn't have the idea of her whereabouts until she surfaced to the troops. This is a classic example of how the CPP-NPA-NDF (Communist Party of the Philippines-New People's Army-National Democratic Front) destroyed the family".
On the posted photos of Pacalda's reunion with her family, the group said, "ito yung pinakamasarap na pakiramdam, ang yakapin ka ng mahal mo sa buhay at handang kalimutan ang bangungot na nakaraan gawa ng mga organisasyon na mapaglinlang (This is the most heartwarming feeling of being embraced by your loved ones, ready to leave behind the nightmare caused by deceitful organizations)".
"Hands Off Our Children" dismissed the propaganda initiated by Karapatan, Kabataan party-list, Anakbayan, League of Filipino Students, and other militant organizations that Alexa Pacalda was kidnapped by the military.
"Simple lang ang hangarin ng #HandsOffOurChildren, ang mabuo ang pamilyang Pilipino. Kinakalat nila na si Alexa ay isang 'human rights advocate' na kinuha ng military (The objective of #HandsOffOurChildren is simple and that is to unite the Filipino family. They (leftist groups) spread that Alexa was a 'human rights advocate' and that she was abducted by the military)," the group added.
The CPP-NPA is listed as a terrorist organization by the United States, European Union, United Kingdom, Australia, Canada, New Zealand, and the Philippines. (PNA)