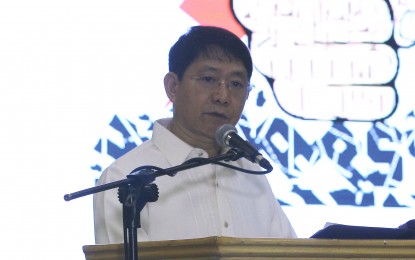 MANILA -- Interior Secretary Eduardo Año on Thursday expressed confidence that newly-appointed Bureau of Corrections (BuCor) Director General Gerald Bantag will be able to eradicate irregularities at the New Bilibid Prison (NBP).
"Having served as warden of major city jails in Metro Manila and eventually as BJMP (Bureau of Jail Management and Penology) Regional Director, Bantag has the professional experience, training, and competence needed in leading the BuCor. He brings with him the leadership skills and core values he learned in the BJMP which is a large and professional uniformed service of the DILG (Department of the Interior and Local Government)," Año said in a statement on Thursday.
He said that as a professional and career BJMP official, Bantag is innately familiar with the Philippine penal system and culture and, therefore, does not need a long transition and can immediately begin work to reform the systems in the BuCor.
The DILG chief also said under Bantag's watch, corrupt BuCor officials will have a hard time conducting their illegal activities.
"Sa tingin ko, mahihirapan siyang paikotan ng mga ilang tiwali sa BuCor dahil alam na niya ang mga sistema at kalakaran sa ating mga kulungan (I think corrupt BuCor officials will have difficulties dealing with him because he is familiar with the systems and process of our jails). I urge Bantag to judiciously exercise his mandate and inculcate into his new assignment the professional culture of the DILG," he stressed.
The DILG Secretary said the designation of a BJMP career official to head the BuCor is a positive development for our country and It should be the beginning of real reforms that we all have been waiting for in order to truly serve justice and maintain the integrity of our penal system.
"Remember, you are not only accountable to the President but the entire Filipino people who are shocked and disappointed by the irregularities in the BuCor. In the hands of the right people, the problems of the BuCor are not insurmountable. As always, the BJMP and the DILG are ready to support you in your enormous responsibility," he noted.
Bantag, former warden of the Parañaque and Manila City jails, replaced Nicanor Faeldon, who was dismissed by the President for disobeying his order to stop the release of almost 2,000 heinous crimes convicts under the controversial Good Conduct Time Allowance (GCTA) law.
Prior to his appointment, Bantag served as head of the BJMP in Mimaropa (Mindoro, Marinduque, Romblon, and Palawan).
Bantag made it to the headlines in 2016 when 10 inmates were killed in a grenade blast at the Parañaque City Jail, during his time as the Jail Warden.
The inmates were reportedly protesting their situation inside their cells and came to discuss it with Bantag who allegedly refused to give in to their demands. (PNA)