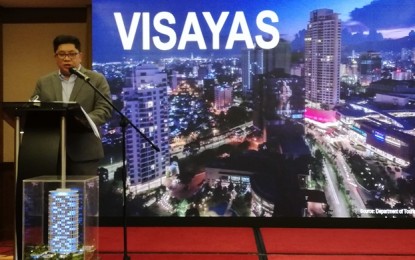 BACOLOD CITY -- Premiere property developer Federal Land Inc. is eyeing the cities of Bacolod and Iloilo as the sites of its future projects in a bid to strengthen its presence in the lucrative Visayas market.
John Cabato, the company's senior vice president and head of sales and marketing, said Visayas remains to be a strong region for real estate investments as its robust economy continues to attract more investments.
"The Visayas cities are always on our mind because we think it's a growth area. Visayas will be a great place to support different lifestyles combining economy, urbanity and obviously, rustic charm," he added.
In a roundtable discussion with reporters from Bacolod and Iloilo at Marco Polo Plaza Cebu on Wednesday, Cabato said Federal Land sees the interconnection between Cebu, Bacolod, and Iloilo as a major commerce and tourism hub in the Visayas.
"With all three cities home to international airports, Cebu, Bacolod and Iloilo have direct access to an influx of expatriates and tourism from different parts of Asia," he said.
In Cebu, Federal Land will soon roll out Marco Polo Parkplace, the fifth tower of its luxury condominiums, Marco Polo Residences. Parkplace is a three-hectare property that houses 350 units.
Cabato said affluent families in Bacolod and Iloilo are also investing in various properties in Cebu and other areas.
"That will continue. What we would like to create is intra-region investment. That only means that all regions in the Visayas will grow," he noted.
He also cited the 2018 Cities and Municipalities Index, wherein Bacolod, Cebu, and Iloilo are in the top 15 as most competitive highly-urbanized cities in the country.
"With this positive environment, businesses such as business process outsourcing (BPO) firms have moved out of Manila to establish offices in Cebu and Bacolod, with many investors eyeing Iloilo with its recent infrastructure developments," Cabato said.
He added that Bacolod remains a key BPO hub with specialization in health information management primarily attributed to the nursing and allied medical courses graduates produced by the city yearly.
"The city is already primed to accept even more office space and investments in the BPO sector," he noted.
Cabato also mentioned the proposed Panay-Guimaras-Negros Island Bridges Project which is seen to expedite transport of goods and inter-island trade in the Visayas. (PNA)