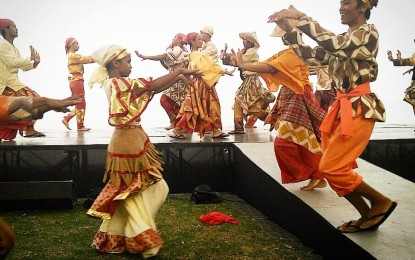 DUMAGUETE CITY – A total of 14 contingents from the different villages and schools here will challenge each other for the top plum in the "Pasundayag" (street dancing) and "Pasigarbo" (grand showdown) competitions of the 2019 "Sandurot Festival" on Saturday.
These are Barangays Talay, Bajumpandan, Bantayan, Pulantubig, Banilad, and Junob, while the schools are Metro Dumaguete College, Asian College, Piapi High School, Negros Oriental High School, Taclobo National High School, Herminigilda F. Gloria Memorial School, Camanjac National High School, and Dumaguete City High School.
City Public Information Officer Dems Rey Demecillo said on Wednesday that the Pasundayag and Pasigarbo are just among several activities lined up for the celebration of the city's ongoing Sandurot Festival, which is held every September to coincide with the observance of Tourism Month.
The contingents will be competing in the street dancing and grand showdown starting at 3 p.m. around this city's streets, to culminate at the city hall quadrangle.
There will be at least three "performance areas" at the Sandurot route where judges will be stationed.
Traffic will be closed at major thoroughfares from 2 p.m. to 5 p.m.
The 31st Sandurot Festival this year opened with the usual "Paghimamat", a program that depicts the story of Dumaguete through dance, music, and theater act over the weekend.
"Sandurot" means to come together, and the week-long festivity includes a festival costume competition, a half marathon, "Duma Comida" with food stalls and music at the Rizal Boulevard, a terracotta exhibit, golf tournament, a photography contest, and a bell tower project concert, among others.
City Tourism Officer Jacqueline Veloso Antonio said there is no theme for this year's festivity, which she described as "the annual celebration of creativity, human industry and the coming together of the different influences that make it Dumaguete." (PNA)