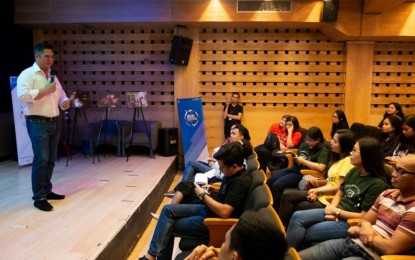 MANILA -- The youth can help make the country a "better place" by promoting right to information in communities, Presidential Communications Operations Office (PCOO) Secretary Martin Andanar said.
Andanar raised this challenge to the youth during the International Day for Universal Access to Information (IDUAI) Festival 2019 at the Cinematheque Center in Manila on Saturday.
"Access to information is one basic right enshrined by our constitution. That is why, our President Rodrigo Duterte signed Executive Order No. 2, Series of 2016," Andanar said.
Executive Order No. 2, Series of 2016 or the FOI Program was signed by President Duterte on July 23, 2016, days after he assumed office.
"May you continue to champion FOI (Freedom of Information) in your localities. Work closely and keep on supporting your government's projects. Hand in hand, we can make this country a better place to live in," he added.
PCOO Assistant Secretary Kris Ablan, for his part, emphasized that there is a need to reach out to communities, especially in rural areas where information on government projects is barely reached.
"We need to reach the last mind and leave no one behind," Ablan, FOI Program Director, said.
Ablan recalled his immersion experience in a tribal community in Bukidnon, where he witnessed how the poor and vulnerable families living in geographically isolated and disadvantaged areas do not avail of basic government services because they do not have the knowledge about it.
"I spent a week with my foster family in a little tribal community... and I learned that there is a great lack of information for the poor and vulnerable," Ablan said.
"Government can come with as much beautiful programs to uplift their lives but if they do not know about then it is useless," he added.
He acknowledged that much has to be done for everyone to enjoy the right to information, but was optimistic that activities organized by PCOO could raise the proper awareness for this.
In 2015, the United Nations Educational, Scientific, and Cultural Organization (UNESCO) adopted a resolution declaring Sept. 28 of every year as the International Day for Universal Access to Information.
The commemoration highlights the fundamental importance of a transparent government in building a developed state.
The PCOO initiated the maiden local celebration for the IDUAI Day by organizing contests that showcased the creativity of students in advocating access to information through various art forms including film, photography, essay writing, and spoken word poetry.
This year's celebration of the IDUAI Day particularly has relevance with the UN's Agenda 2030 in reference to the Sustainable Development Goals on investment in rural infrastructure and technology development; positive economic social and environmental links between urban, peri-urban, and rural areas; and initiatives to adopt and implement constitutional, statutory and/or policy guarantees for public access to information. (PNA)