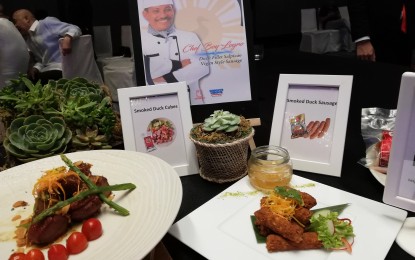 MANILA -- Amid the African Swine Fever scare, many mothers today are looking for a healthy replacement for pork and pork products apart from chicken.
Celebrity Chef Pablo "Boy" Logro told the Philippine News Agency (PNA) in an interview that now is the right time to introduce duck meat to children as part of regular dishes or meals in Filipino homes.
"Maganda source of protein ang duck kagaya ng pork at kumpara sa manok, masasabi ko na mas masarap ito, dagdagan mo pa ng mga vitamins and minerals na makukuha mo dito (Duck is a great source of protein just like pork, I can say that it is tastier, and you can get vitamins and minerals from it)," Logro said.
According to a 2015 study in the Journal of Applied Animal Research, duck meat is nutritious – containing a variety of vitamins, minerals, and anti-oxidants.
"Its most nutritious aspect is, its protein together with small amounts of copper, folate, iron, omega-6 fatty acids, phosphorus, potassium, selenium, zinc and vitamins A, B12, and K," the study said.
While duck skin is considered fatty like chicken skin, the study said duck meat has less cholesterol.
Duck dishes
Logro shared making meat likeable to children could be challenging since it is not as popular as chicken and pork.
"We can create duck burger patties instead of beef burger patties so that millennials will know that there's also duck meat and not just beef. Kulang lamang lang po talaga tayo ng teknolohiya (We just really lack the technology)," he added.
Citing that some Filipinos find duck meat tough compared to chicken, Logro emphasized that style of cooking plays a vital role in its softness or tenderness.
He added boiling and grinding usually work for duck meat.
To get rid of its sliminess, Logro advised cooking it with garlic, lemon grass or turmeric especially if it would be mixed with pasta.
"For fried chicken, kailangan muna pakuluan bago ito iprito. Para naman sa mga matatanda, puwede magluto ng sinampalukan, ginataan, kaldereta at afritada (it needs to be boiled before frying it. For older people, you can cook sinampalukan, ginataan, kaldereta and afritada)," he said.
Logro stressed that duck meat is also budget-friendly because it costs cheaper compared to chicken.
Duck industry in PH
Agriculture Secretary William Dar said duck industry in the Philippines is only second to the chicken industry.
"And, I say, the product we derive from this industry is mostly the eggs –the balut (fertilized egg)– which is globally marketed in the US and other countries. But we are yet to explore the importance of ducks when it comes to their meat," Dar said.
In line with this, Dar cited that the country needs to transform its agriculture "to achieve the level where agri-industry is the mainstay of the business sector".
"So, we have to introduce agri-industrialization so that we can transform a commodity like ducks into a duck industry. The growth of Thailand, for example, in terms of agri-business, has gone early in optimizing every commodity that they have turning them into an industry," he said.
"For us, were just starting in that direction. We're going to set an export oriented-agricultural industry because this is the way many economies in the Asean have grown leaps and bounds," he added.
Duck Day Manila
On September 10, exporter Donny's Choice brought the finest duck brand Dalee to the Philippines to celebrate the first Duck Day Manila.
The brand launch gathered various celebrities, businessmen, media, Thais and Filipinos at Conrad Hotel in Pasay City who enjoyed duck specialties prepared by Filipino celebrity chefs Boy Logro, Rosebud Benitez and Gene Gonzalez, and Thai Celebrity Chef Willmet Leong.
Every duck dish was fused with Filipino cuisine.
"We were very excited to bring Dalee in the Philippines and introduce new flavors and new high-quality options to Filipino cuisine. We are a nation rich with food inspired by our very own culture and history but we don't shy away from fusing these traditional recipes with flavors from other countries and Dalee's duck meat will definitely work well with that," Dalee Brand Manager Jesse Contrata.
Duck Day Manila is the beginning of a yearly celebration as Donny's Choice aims to make September 10 as National Duck Day in the Philippines with the official celebration of Office of the President and National Commission for Culture and the Arts. (PNA)