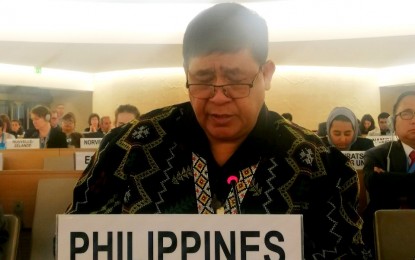 MANILA – Aside from committing atrocities and other acts of violence against the country's indigenous peoples, the Communist Party of the Philippines-New People's Army (CPP-NPA) and its allies are also parties to corrupting words sacred to the IPs.
This, according to National Commission on Indigenous Peoples (NCIP) head, Secretary Allen A. Capuyan, during the Annual Panel on the Rights of Indigenous People themed "Indigenous Languages" during the 42nd Session of the United Nations Human Rights Council in Geneva, Switzerland on September 18.
"We cite specific cases of the deliberate corruption of sacred meanings of indigenous words, committed by the Communist Party of the Philippines-New People's Army (CPP-NPA), a terrorist group, and its front organizations against indigenous peoples," he said.
Capuyan was referring to the following IP words which were misappropriated by the communist rebels:
* Bagani, a word signifying tribal defense and law enforcement, has been corrupted and used to name communist armed units "Pulang Bagani Command" or "Red Bagani Units" which fight against the government;
* Salugpungan, a word signifying protection of the ancestral domain, has been exploited to refer to training schools for child combatants and warriors and to people's organizations or non-government organizations (NGOs) headed by non-indigenous people for purposes of raising funds from international sources to serve criminal ends; and
* Pantaron, a word signifying sacred place and paradise, has been misappropriated to refer to NPA encampment areas, headquarters, and national operational command.
Such actions by the CPP-NPA, he said, should be condemned and penalized because they are in violation of the IP rights.
The CPP-NPA is listed as a terrorist organization by the United States, European Union, United Kingdom, Australia, Canada, New Zealand, and the Philippines.
"With sensitivity and respect for the relationship between language and identity, we should be vigilant and condemn actions by any party that corrupt the meanings behind indigenous terms for unscrupulous ends," Capuyan added.
He said the Philippines, which has more than 100 languages that are used by various ethnolinguistic groups, reaffirms its strong commitment to the promotion and preservation of indigenous languages.
This is needed because recognizing IP languages is vital in recognizing and respecting the identity, culture, and customs of the country's indigenous peoples, he said.
Capuyan, who is IP by blood as he comes from the Manobo Tribe of Agusan del Sur, said IP rights to education is enshrined in the Philippine Constitution and the Indigenous Peoples' Right Act of 1997.
"The government has adopted and been implementing culturally adaptive basic education strategies that integrate indigenous knowledge systems and practices. A mother tongue-based multilingual education where the first language or mother tongue is first used as the language or instruction has been institutionalized in our public schools," he added.
He vowed that the Philippine government remains steadfast in its commitment to promote and preserve indigenous languages, guard them against disrespect and protect the human rights of IPs.
The Philippines is celebrating the National Indigenous People's Month every October as per Presidential Proclamation No. 1906 signed by then-president Gloria Macapagal-Arroyo on October 5, 2009. (PNA)