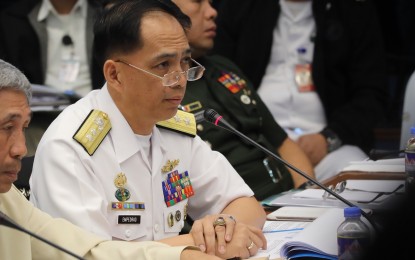 MANILA -- The French-made diesel-electric submersible, the Scorpène, is very ideal for the Philippine Navy's submarine requirement, PN flag-officer-in-command, Vice Admiral Robert Empedrad said Wednesday.
This is because the proposal of the company building the submarine fits the requirement of the PN due to its stealthy design, and good weapon and sonar capabilities.
While these characteristics are also found in comparable submarines like Russia's Kilo-class, Empedrad said the Russian model is very large and expensive for the PN to acquire and operate.
"We are continuously studying this and then hopefully we finalized what is our preference and then the budget will come out so we can bid it," the PN chief emphasized in an interview with reporters.
It is also possible that the project will be funded through government-to-government procurement, Empedrad stressed.
The Navy chief, however, clarified that the French-made submersible is not yet the preferred platform even if it fits the PN's requirements.
"Hindi ko sinabing preferred pero sa ngayon yung requirements namin, 'yung proposal nila (It does not mean that we prefer it but for now, as for our requirements, it) fits the requirements of the PN. But we continue to request for proposals from other company as well. So merong proposal ang (South) Korea, I think may proposal 'yung Germany (South Korea has a proposal. I think Germany has a proposal too)," Empedrad said.
He also added that they are still processing the requirements for the project.
"Hopefully, makapagbigay ang Congress ng budget para mabili na (the Congress can provide the budget so we can buy immediately). I think kung mabili namin 'yung (if we are able to buy the) submarine, it serves as a strategic, psychological deterrence (against enemies)," the PN chief said.
Initially, Empedrad said the PN is planning to acquire two but pointed out that ideal numbers for these undersea vessels are six in a fleet.
The Scorpène-class submarines are a class of diesel-electric attack submarines jointly developed by the French Direction des Constructions Navales and the Spanish company Navantia, and now by Naval Group. It features diesel propulsion and additional air-independent propulsion.
The Scorpène can be armed with a variety of torpedoes, missiles and mines and it has range of 6,500 nautical miles and is capable of speeds of 12 to 20 knots.
Earlier, Department of National Defense Secretary Delfin Lorenzana said that should the PN submarine acquisition program push through, it will be acquired via government-to-government procurement.
"The submarine, if we finally decide to buy them, will be on a government-to-government procurement and under a loan so that we do not need a large upfront capital outlay," he added.
The DND chief also said they are looking at proposals made by Russia, South Korea, Germany and France for the PN submarine acquisition program. (PNA)