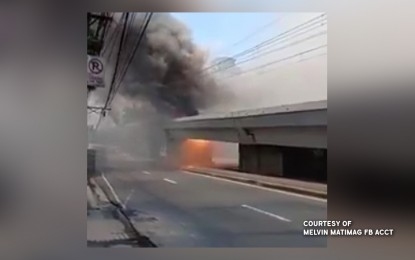 MANILA – The Light Rail Transit Authority (LRTA) said on Friday the degraded operations of the LRT Line 2 (LRT-2) will resume by early next week while the last three stations in the eastern end of the rail line will be out of commission for an estimated nine months.
In a phone interview, Lyn Janeo, LRTA public relations officer, said multiple systems in the rail line are undergoing testing to ensure its stability and safety for passengers before resuming degraded operations from Cubao to Recto stations and back.
"Kasi we want to ensure na okay yung telecommunications namin, yung signaling namin, yung power, tapos yung mga trains okay lahat (Because we want to ensure that our telecommunications, signaling, power, and trains are all okay)," Janeo said.
She, however, said the Anonas, Katipunan, and Santolan stations will be out of commission for about nine months due to severe damage on the local power rectifier (transformer) substation, which supplied power in the area during the fire.
"Kasi heavily damaged yung rectifier substation natin--ito kasi yung nagsu-supply ng power sa tatlong stations na 'yon (Because our rectifier substation was heavily damaged—this supplies power to those three stations)," Janeo said.
The long wait before the full operation of the rail line, she said, is due to the lengthy process of procuring replacement parts for the damaged substation from overseas.
"Magkakaroon tayo ng (We will have) procurement abroad, delivery, syempre (of course) insulation, testing, commissioning--medyo matagal na proseso din (it will be a long process)," Janeo said.
She added they will try to restore the operation in the three stations as soon as possible—with their target to restore full service in less than nine months.
"More or less mga (around) nine months pero we'll try our best na kung sakaling mapa-aga (but we'll try our best to finish it earlier)," Janeo said.
In a message, LRTA administrator Reynaldo Berroya said the estimated cost of damages to the rail line was about PHP428 million.
He added that engineers from the United States of America who had been previously commissioned to design and install the rectifier substations of the LRT-2 will return to the Philippines to help in the ongoing investigation.
Many netizens aired their concerns through social media, one of whom was @iAmSuperCis, who said her previous travel time of 20 to 25 minutes from Katipunan to Recto through the LRT-2 will increase by about an hour.
"Approx. 9 months madadagdagan ang travel time ko ng 1 hr (Katipunan to Recto only takes 20-25 mins via lrt2) Any change we will have free rides from Katipunan to Cubao?," she said in a Twitter post.
https://twitter.com/iAmSuperCis/status/1180054651065888768?...
While the LRT-2 is in degraded/limited operations, the LRTA said the Metropolitan Manila Development Authority and the Philippine Coast Guard will continue to provide free bus rides from the Santolan depot to Cubao station.
"During peak hours 'yun. In the morning that's 7 to 9 a.m., and in the afternoon that's 5 to 7 p.m.," Janeo said.
In a post on Twitter, the LRT-2 said these buses will only pick up passengers in LRT-2 stations.
On Thursday around 11:33 a.m., the LRT-2 suspended its operation due to a fire caused by tripped power rectifiers between Katipunan and Anonas stations.
Berroya said the LRTA's primary concern was to determine the extent of the damage to the rail line to ensure the resumption of operations in as little time as possible and for the safety of the LRT-2's estimated 200,000 daily passengers. (PNA)