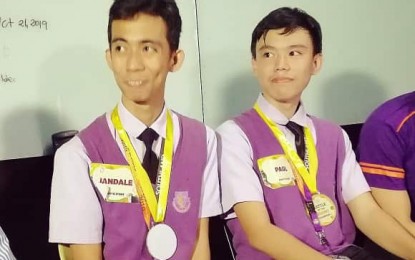 DUMAGUETE CITY – While most teenagers today are glued to their television sets, engrossed in online games or fiddling with their electronic gadgets, 18-year-old Jandale Samillano sacrificed being away from home for several weeks to prepare for the grand finals of Negros Island's premiere quiz bee on renewable energy, the environment, and climate change.
Samillano, together with Paul Peralta, 18, both senior high school students of the Southland College Kabankalan (SCK) in Negros Occidental, spent two months and a half studying for the championship of the Battle of the Brains (BOTB) quiz bee, a project of geothermal power leader, Energy Development Corporation (EDC).
"I live in a far-flung barangay in the city, about 10 kilometers away, and so I decided to stay with Paul for more than two months and a half so we can prepare for the finals, so we can study together and bond together as a team," Samillano said in an interview over the weekend.
Living at Paul's home had also helped "strengthen their chemistry as a team," he said.
All that hard work paid off for the duo which bagged the championship title of the BOTB, besting nine other teams from across Negros during the grand finals held recently at the Foundation University in Dumaguete City.
"We are happy to have won, because this is the 10th year anniversary of Southland College, and we were aiming for the championship as a gift to our school," Samillano said.
This is the 2nd time for SCK to win in the BOTB grand finals, the first one in 2017.
Now in its fourth year, the BOTB science-based competition was created to promote clean and renewable energy, as well as to serve as a "wake-up call for the youth who need to learn and start taking care of our planet today in order for them to have a greener Negros and a sustainable future," said Norreen Bautista, head of EDC's corporate social responsibility teams on Negros Island and Mt. Apo.
"It's now about being attuned to the reality of the global climate crisis and to encourage the young people that they have a big and important role to play to prepare for a sustainable and brighter future," she said.
"And it is through the regional science contest that we continue spreading awareness on the use of renewable energy as one of the solutions to fighting climate change," she added.
During the grand finals, the top 10 finalists had to go through each of the easy, medium, and difficult rounds with a wild card question asked during some portions of the contest.
Those who get the correct answer to each wild card question get double points depending on the category.
Having moved up to the difficult round with four other teams, the SCK pair aced the final clincher when Samillano wowed the audience during the question & answer (Q&A) portion, a new feature introduced in this year's BOTB.
During the Q&A, a judge picked a particular team and asked a question that either of the two team members would have to answer in front of the audience, given only a few minutes to discuss it with their coach.
For the SCK question, they were asked to choose which of the 17 Sustainable Development Goals of the United Nations would be best for EDC to use in its advocacy for renewable energy.
They chose No. 17, or Partnerships for the Goals.
Samillano answered spontaneously that there is a need to be united, to communicate effectively and enjoin the community and the public in the endeavor to promote renewable energy, also highlighting that forging partnerships would mean better results to achieve goals such as sustainability for the future.
The SCK received medals, certificates, and PHP30,000 cash.
Samillano said he was hoping to buy a cellphone with his prize and to use part of it to go to Bacolod City for the University of the Philippines College Admission Test (UPCAT).
To his surprise and delight, movie and TV personality, and environmentalist Robi Domingo, who graced the BOTB grand finals, pledged to pay for his fare, which was announced during a press conference that followed the contest.
Peralta, meanwhile, said he had yet to decide on what to do with his cash prize.
"I feel complete right now and I am so happy that Paul is my partner, and I am happy that I have the best partner," an enthusiastic Samillano said of his teammate while thanking their teachers and coach for guiding them all throughout.
Domingo told the two that he hoped what he heard on stage "would not just stay there but I hope to see you as part of EDC, or even with the UN".
A total of 77 schools from Negros Oriental and Negros Occidental joined this year's BOTB. The number is four times higher than in 2016 when the competition was launched.
Meanwhile, EDC's Integrated Planning head, Jay Joel Soriano, called on the quiz bee contenders and all those present during the contest to unite for a cleaner, greener, and brighter future for Negros.
He cited EDC partnerships with government and private institutions in protecting the environment and combating climate change, such as the "10M in 10", a project that aims to plant 10 million trees in 10 years in Negros.
"I hope that we can all work together to plant, grow, and maintain our native trees and that we don't take for granted nature's blessings," he said.
"More importantly, I hope that we realize there is much more we can learn and do to help our environment. We need to act now if we want to win the battle against this climate crisis." (PNA)