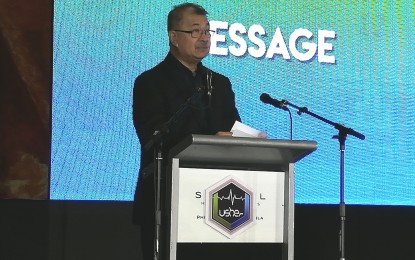 MANILA -- The Philippines and China would assist future researchers as well as start-up companies from both countries through scholarships and partnerships, Department of Science and Technology (DOST) Secretary Fortunato dela Peña said on Tuesday.
"The president of Chinese Academy of Science (CAS) invited us to send a hundred scholars for MS (Master of Science) and PhD in STEM (science, technology, engineering, math) areas whom they are willing to support with scholarships," he told the Philippine News Agency (PNA).
Dela Peña said he had also extended an invitation to Chinese students to study in the Philippines, but without mentioning scholarship support.
The DOST chief has been encouraging Filipino students to pursue a doctorate in Science courses, saying that while there has been an increasing number of students taking up MS courses, "the number of PhDs is quite small".
He has been telling Filipino students to take advantage of the DOST's scholarship grants.
Dela Peña earlier told the PNA that aside from strengthening the DOST's scholarship program, the agency is urging more people to take Science courses or become a researcher by going to the regions.
The DOST, he said, is taking advantage of the opportunities in the regions, by trying to address their specific needs through research, seeking the proposals of people who would like to contribute their research and expertise that would specifically address the needs in the countryside.
He added the Philippines and China will further strengthen partnerships and collaborations in the field of science and technology.
Just last month in Beijing, China, the DOST and CAS signed a memorandum of understanding (MOU) that signify their intent to explore science and technology cooperation, especially in the fields of transportation, biomedical devices and telemedicine, smart cities, high-energy physics, and other areas that would be mutually agreed upon.
Both agencies may conduct the following activities: joint organization of bilateral symposia, joint conferences, training, and workshops; exchange of scientists, experts, and researchers; educational programs; joint research and development projects; and exchange of science and technology information and publications.
Dela Peña said CAS officials came to the Philippines and met with him last April regarding S&T collaboration.
He added that earlier in 2018, CAS also invited DOST officials for talks.
Besides, dela Peña said that DOST and CAS want start-up companies from both the Philippines and China to get connected. (PNA)