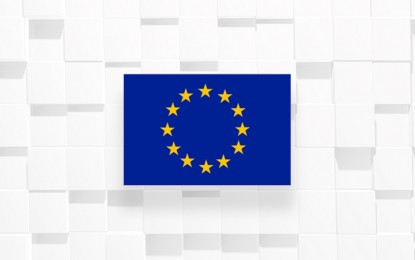 MANILA -- Filipinos seeking to pursue higher education in Europe are encouraged to join the European Higher Education Fair (EHEF) this year where more than 40 top universities in Europe will participate.
According to the EU Delegation in Manila, the participating institutions will offer specialized and advanced study courses in Engineering, Architecture, Social Sciences, Arts and Humanities, and Information Technology.
During the fair, the EU will also introduce some scholarship schemes to foster student mobility such as the Erasmus+ Programme, which encourages students to pursue courses in the EU.
Because education is one of the United Nations Sustainable Development Goals, EU Delegation Chargé d'Affaires Thomas Wiersing said the bloc will continue to support the "provision of inclusive and equitable quality education" in the country.
The diplomat noted that education is a "priority area of cooperation" under its Partnership and Cooperation Agreement (PCA) with the Philippines.
"We believe in providing people with cross-cutting and critical thinking skills," Wiersing said during the EHEF press conference in Mandaluyong City on Thursday.
"In today's world, higher education needs to respond to both changing technology and increasing internationalization. That is why we are aiming that the European Higher Education Fair 2019 provides the perfect platform to connect young Filipinos to European universities," he added.
At least 48 higher education institutions from the EU are participating in the 2019 EHEF edition, including universities from Austria, Finland, Belgium, the Czech Republic, Denmark, France, Germany, Hungary, Italy, the Netherlands, Spain, and Sweden.
"Through this fair, we want to showcase the importance of mobility, innovation, people-to-people links, and lifelong learning," Wiersing added, noting the state-of-the-art and world-class universities and facilities in Europe.
"Apart from the charm that is, I would argue, inherent in the EU-our universities prepare young people for the global economy and help instill the values of self-reliance, independence and intercultural and linguistic abilities, all necessary in today's increasingly complex world," he said.
The latest batch of Erasmus scholars reached 66 this year, making the Philippines the sixth top source of EU scholars in the world.
This year, the fair will be held at the Shangri-La Plaza in Mandaluyong City on October 26 and at the Lyceum of the Philippine University Cavite, EU's first-ever EHEF Roadshow in Southern Luzon.
The following universities and institutions will be joining the 2019 EHEF :
France
*IESEG School of Management
*IMT Atlantique
*INSEAD
*Institut Polytechnique UniLaSalle
*Sciences Po
Germany
*Rheinland Institute
*TU Dortmund
*University of Regensburg
Hungary
*Central European University
*Budapest Metropolitan University
Italy
*IED Istituto Europeo di Design
*Istituto Marangoni
*IULM University-Milan
*Politecnico Di Milano
*Universita Cattolica del Sacro Cuore
Netherlands
*IHS (Institute for Housing & Urban Development Studies of Erasmus University Rotterdam)
*International Institute of Social Studies
*Maastricht School of Management
Spain
*IE University/1E Business School
Sweden
*KTH Royal Institute of Technology
*Lund University
Austria
*Carinthian Tourism School (KTS)
*IMC University of Applied Sciences Krems
*Modul University Vienna
*Tourism Schools Bad Gleichenberg
*University of Applied Sciences Wiener
Neustadt
*Webster Vienna Private University
Belgium
*Ghent University, Faculty of Bioscience
Engineering
*KU Leuven
*The University of Antwerp, Institute of Development Policy (10B)
*University of Hasselt
*Vrije Universiteit Brussel (VUB)
Czech Republic
*Charles University
*Czech University of Life Sciences Prague
*Masaryk University
*Mendel University in Brno
Denmark
*University of Aalborg (Aalborg Universitet)
*University of Southern Denmark (SDU)
*Copenhagen Business School
Finland
*Arcada University of Applied Sciences
*Haaga-Helia University of Applied Sciences
*Häme University of Applied Sciences
*Kajaani University of Applied Sciences
*LUT University
*Metropolia University of Applied Sciences
*Satakunta University of Applied Sciences
*Seinäjoki University of Applied Sciences
*Turku University of Applied Sciences
(PNA)