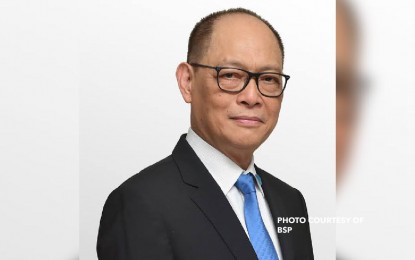 MANILA -- The Bangko Sentral ng Pilipinas (BSP) will be contributing more in keeping economic stability in the country by taking advantage of the amended Central Bank Act as well as improvement in electronic payments.
In his speech during the Asian Banker's Finance Philippines 2019 forum in Taguig City Thursday, BSP Governor Benjamin Diokno said the amended Charter has improved the central bank's ability to manage liquidity and supervise the financial sector along with other financial regulators.
The amended Charter provides reforms that will allow the central bank to align its operations with the best practices around the globe, improve the central bank's corporate viability, and enhance its capacity in crafting policies on the back of the connections in the financial market and the economy.
It ended the use of money supply and credit levels as bases for determining monetary policy, and restored the central bank's authority to issue its own debt instrument.
Diokno earlier said they are mulling to issue debt instrument in the latter part of this year.
The law also increased the BSP's capitalization from PHP50 billion to PHP200 billion, which will be sourced from dividends declared by the central bank to the national government.
Also to be maximized is the goal of the recently-signed National Payment System Act, which provides for a comprehensive legal and regulatory framework in maintaining a payment system, that will control systemic risks and provide an environment conducive to sustained expansion of the domestic economy.
The BSP has strengthened measures to increase the share of digital payments transactions to account for about 20 percent of the total by 2020 by utilizing financial technology, or fintech.
It has so far put in place two real-time automated clearing houses namely the InstaPay and PESONet to help increase electronic payment system.
Banks have also stepped up their respectively systems to cope up with the program of the BSP.
Diokno said the rise in the number of non-bank electronic money (e-money) issuers is a "big help" in the bid to increase e-payments in the country.
He disclosed that as of last August 27, there were about 14 non-bank e-money issuers being supervised by the central bank.
The use of quick response (QR) codes is also a plus to the e-payments program of the BSP, he said.
"We hope to see more of this in the future; we hope that even market vendors, cab drivers, and sari-sari store owners will be able to use QR codes as a means to accept payments," he said.
The central bank chief said they are coordinating with industry players for the establishment of a National QR Code Standard that will allow interoperability of QR Code-based payment facilities.
He also disclosed that digitalization of government collections and disbursements are also helping in this bid.
"Moving forward, the BSP is committed to playing an even more active role in maintaining economic stability and in helping achieve the economy's long-term development goals, among which is to reach high-income status by 2040," Diokno added. (PNA)