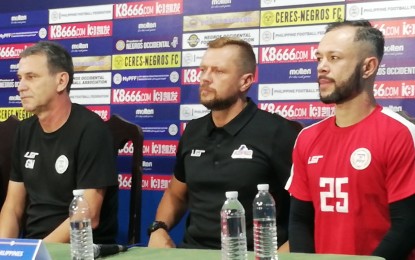 BACOLOD CITY -- Banking on home advantage, the Philippines is looking to snap its two-game loss to China as they face-off in the 2022 World Cup and 2023 Asian Cup qualifiers at the Panaad Stadium here on Tuesday night.
Azkals head coach Goran Milojevic said the national team is fully-driven and excited to make a success against the visitors this time.
"Coming to us is one of the best teams in Asia. We are happy to see what we can do. The national team will try to do something nice, something positive," the Serbian mentor said during the pre-match press conference on Monday night.
In January this year, China defeated the Philippines, 3-0 in the group stage of AFC Asian Cup 2019 hosted by the United Arab Emirates while in July, the Azkals bowed anew to Team Dragon, 0-2, in an international friendly match held in Guangzhou.
"We have a match to try and fix all that. We are fully-driven, so excited for the national team to make some good success," Milojevic said, adding that Irish coach Scott Cooper is "preparing very well" and "we are preparing ourselves to make a surprise result".
Azkals captain Stephan Schrock said they are "expecting a good organized unit" from China mentored by Italian Marcello Lippi.
"You can be sure that we will be well-prepared. We respect them, but we don't fear the team from China," the Filipino-German mid-fielder added.
For Tuesday's match, which kicks off at 8 p.m., Cardiff City keeper Neil Etheridge will suit up for the Philippines, which is playing in Group A also with Maldives and Guam.
The Azkals recorded the first win by beating Guam, 4-1, at the Guam FA Training Center on September 10.
Also included in the Philippines line-up against China are goalkeepers Michael Falkesgaard and Kevin Hansen; defenders Amani Aguinaldo, Mikel Baas, Carlie de Murga, Niko de Vera, Daisuke Sato, Alvaro Silva Martin Steuble, Elias Suerti and Luke Woodland; midfielders Yrick Gallantes, Angel Guirado, Kevin Ingreso, Mike Ott, Iain Ramsay and John Strauss; forwards Jovin Bedic, Mark Hartmann, Jose Porteria and Patrick Reichelt. (PNA)