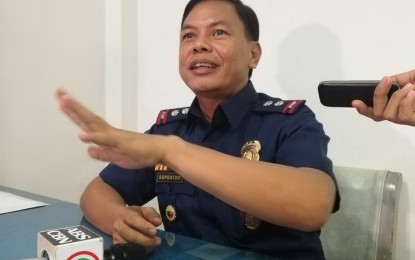 BACOLOD CITY -- Lt. Col. Jovie Espenido, deputy city director for operations of Bacolod City Police Office (BCPO), is urging persons dealing prohibited drugs here to stop their illegal activities.
Espenido, a celebrated police officer in the government's campaign against drugs, reported for duty in this city on Wednesday afternoon, after his stint as chief of Ozamiz City Police Station for more than two years.
"Sa mga gumagawa pa rin ng kalokohan sa illegal drugs sana mag-i-stop na. Life is beautiful, you should reconsider that your life is not yours, and also to maintain a good relationship with your family. Pero kung gusto mo talagang magmadali sana tayo magkita para may resulta (To those dealing illegal drugs I hope you will stop. Life is beautiful, you should reconsider that your life is not yours and also to maintain a good relationship with your family. But if you're in a hurry, I hope we will see each other to see a result)," Espenido said during an interview with reporters Wednesday night at the Bacolod police headquarters.
Espenido said that he sees the drug pushers and users as victims being used by powerful people to make money.
"Sayang ang kinabukasan ninyo. Dapat sana kayo mag-surrender. Tugisin nating yung nag-utos. Yung nag-finance, yun talaga ang pinaka the best, (Don't waste your future. You need to surrender. Let us go after those who gave the order. Those who financed, that will be the best)," he added.
In Ozamiz, Espenido led the operation, where Mayor Reynaldo Parojinog and 14 others were killed during a shootout with policemen in a pre-dawn drug raid.
As operations chief, Espenido will not directly lead the city police's campaign against illegal drugs but is hoping he can meet the expectations of Bacolodnons, who have been looking forward to his assignment here, based on their comments on social media.
He encouraged the people of Bacolod to pray, which he had been doing to carry out his tasks as a policeman. "I can't accomplish my target, my mission if I don't depend on God's help. Also include our President (Rodrigo Duterte) in your prayers, for strength to manage the problematic institutions in our government," he added.
Before he came to Bacolod, Espenido first reported to the Police Regional Office (PRO)-6 (Western Visayas) headquarters in Iloilo City.
Earlier on Wednesday, his promotion from major to lieutenant colonel was formalized when he received his new rank insignias from Brig. Gen. Rene Pamuspusan, PRO-6 regional director, and Col. Marlon Tayaba, chief of PRO-6 directorial staff.
On Monday, Mayor Evelio Leonardia said the President is "very much aware" of Espenido's assignment to Bacolod.
Considering Espenido's expertise in the campaign against illegal drugs, the mayor believes his presence here is "meant to intensify, expand, and maybe hasten" the efforts of the city police. (PNA)