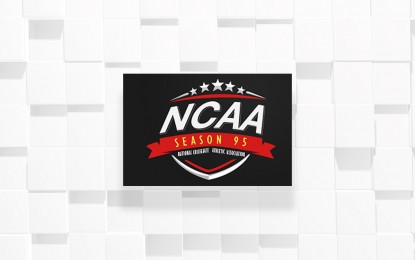 MANILA — San Beda Red Lions completed an 18-0 sweep of the National Collegiate Athletic Association men's basketball eliminations after romping Lyceum, 85-62, at the FilOil Flying V Centre in San Juan City on Thursday night.
The Red Lions began pulling away in the second quarter, dropping 28 points on the Lyceum Pirates, who were limited to only 13 points in each of the last two quarters.
Donald Tankoua made 26 points on 10-of-15 shooting, eight rebounds, one assist, two blocks, and one steal for San Beda, which got a free ride to the finals.
Calvin Oftana added 18 points on 7-of-10 shooting, 10 rebounds, two assists, and two blocks.
Jaycee Marcelino tallied 17 markers, four boards, one dime, and two steals for Lyceum, which despite sealing the second seed, will be going through stepladder playoffs to determine San Beda's opponent in the championship round.
In the first game, Letran Knights sealed the third seed in the stepladder phase after downing Emilio Aguinaldo College Generals, 87-79.
The Knights turned the tides in the second half, holding the Generals to only 14 third-quarter points after a 41-point first-half including 25 in the first quarter before dropping 31 in the fourth to seal the win.
Larry Muyang made 22 points on 7-of-10 shots, 11 rebounds, one assist, and one block for Letran, which will await whichever among San Sebastian Golden Stags and Mapua Cardinals will take the fourth seed.
The Golden Stags can seal the last playoff seat with a win against the Perpetual Help Altas on Friday, while the Cardinals must beat the CSB Blazers and hope that the Altas prevail to force a knockout battle with the Golden Stags for the fourth seed.
Jerrick Balanza chipped in 20 points, four rebounds, two assists, and two steals for the Knights.
Jethro Mendoza made 26 points and one rebound for EAC.
BOX SCORES:
First Game
LETRAN 87 - Muyang 22, Balanza 20, Batiller 15, Yu 10, Ular 8, Ambohot 6, Reyson 4, Mina 2, Caralipio 0, Balagasay 0, Sangalang 0, Pambid 0
EAC 79 - Mendoza 26, Maguliano 13, Gurtiza 9, Taywan 8, De Guzman 6, Luciano 6, Estacio 4, Corilla 3, Martin 3, Cadua 1, Gonzales 0, Carlos 0, Boffa 0
QUARTERSCORES: 14-25, 30-41, 56-55, 87-79
Second Game
SAN BEDA 85 - Tankoua 26, Oftana 18, Canlas 17, Doliguez 5, Soberano 5, Abuda 5, Nelle 4, Carino 4, Bahio 1, Alfaro 0
LPU 62 - JC Marcelino 17, Santos 12, Guinto 6, Navarro 6, Valdez 6, Remulla 5, Caduyac 4, Ibanez 4, JV Marcelino 2, David 0, Tansingco 0, Yong 0
QUARTERSCORES: 20-17, 48-36, 66-49, 85-62 (PNA)