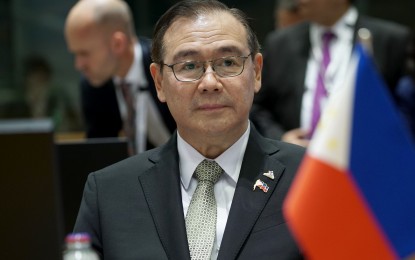 MANILA -- Foreign Affairs Secretary Teodoro Locsin Jr. on Saturday reiterated his decision to reject any offer from China to send a panda to the Philippines, citing lack of facilities in the country to tend to the bear.
"If it becomes a formal state offer, I will flatly reject it and fight it," Locsin said on his official Twitter account.
"I won't be an accomplice in the killing of Kung Fu Panda whose wisdom I quoted at the United Nations General Assembly as the Philippines statement. 'Enough talk, let's fight,'" he added, making reference to an American animation film with a giant panda as its main character.
The country's top diplomat initially turned down an apparent offer by a "mainland well-connected friend," saying he does not want to starve the bear, a conservation-reliant species native to south central China.
"Why I politely dismissed an offer to give us one. We can't starve another animal to death in a dead zoo. We're just no good at this," he said.
The People for the Ethical Treatment of Animals (PETA) Asia lauded the move, agreeing no zoo in the country could provide the diversity that animals need.
"Thank you Mr. Locsin for refusing to allow this panda to suffer for the sake of human entertainment," it said in a statement.
"No zoo in the Philippines can provide even a fraction of the space, diversity, and freedom that animals need. Remember, as long as people continue to buy tickets to zoos, animals will continue to suffer. Please never patronize them," it added. (PNA)