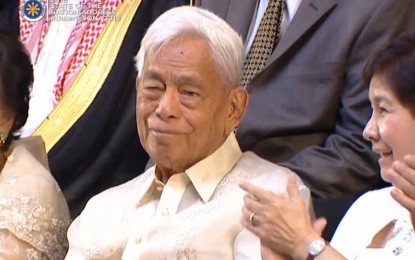 MANILA -- The defunct Consultative Committee (ConCom) for charter change on Sunday vowed to continue pushing for a shift to federalism as it mourned the passing of one of its members, former Senate President Aquilino "Nene" Pimentel.
In a statement, the ConCom expressed sympathy to Pimentel's family and all Filipinos in mourning his passing, grateful for having the opportunity to work with him.
The ConCom recalled how Pimentel began his career in government as one of the young delegates to the 1971 Constitutional Convention and capped it with a stint as a member and vice chairman of the Consultative Committee that drafted the Bayanihan Federalism Constitution.
"The members and staff of the Consultative Committee to Review the 1987 Constitution are deeply saddened by the passing of Senator Aquilino 'Nene' Pimentel, a stalwart of federalism and one of the crafters of the ConCom draft Bayanihan federalism constitution," the ConCom said.
"We, the members and staff of the Concom, are honored and privileged to have worked with him in the service of the nation," it added.
The ConCom said that more than being a public servant, Pimentel was "a steadfast advocate of true reforms and real change, a defender of the rights of all, a man of humility, honesty and integrity, a constitutionalist and a great Filipino and patriot."
Describing the push for federalism as "a great burden" as more Filipinos have yet to be informed about its benefits, the ConCom assured that with Pimentel's guidance, they would continue pushing for federalism.
"Rest assured that we shall not tire in carrying on your dream of a federal Philippines, and carrying it through. You have left us with a great burden, but we will soldier on -- with your guidance and inspiration," it added.
Best tribute
ConCom chairman and former Chief Justice Reynato Puno said promoting federalism will be the expert panel's best tribute to their colleague.
"The best tribute we can give to Nene is to work harder for federalism .... his last advocacy for a better Philippines," Puno said.
Puno bared that members of the ConCom are scheduled to visit Cagayan de Oro, Pimentel's hometown, to promote for federalism.
"It is not a coincidence that on October 26 we are going to Cagayan de Oro, his home province, to push for federalism. Nene will always be with us even if he is now in the embrace of the Lord," Puno said.
ConCom spokesperson Ding Generoso said that among Pimentel's last acts as a public servant was signing the ConCom draft Bayanihan Federalism Constitution on July 3, 2018.
Meanwhile, ConCom said although Pimentel will be missed, he will leave behind a legacy which will be passed on to future generations.
"The Filipino nation will forever be grateful to Senator Pimentel for his unselfish service and great sacrifice," the ConCom said.
"He will surely be missed, but his legacy will live on and continue to inspire Filipinos in seeking and aspiring for a better nation for themselves and their children," it added.
Pimentel died on Sunday, 5 a.m. after battling lymphoma, a cancer of the immune system, according to Pimentel's eldest son, Senator Koko Pimentel.
The elder Pimentel has more than 50 years of experience in governance and politics, having served the Senate for three terms -- 1987 to 1992, 1998 to 2004, 2004 to 2010. He was former Senate president, Minority Floor Leader, Majority Floor Leader of the Upper Chamber.
He is also the founder of the Partido Demokratiko Pilipino–Lakas ng Bayan, the political party of President Rodrigo Duterte and known for being the father of the Local Government Code.
In 2018, Duterte appointed Pimentel, one of the prime movers of federalism, as one of the 25 members of the consultative committee on amending the 1987 Constitution. (PNA)