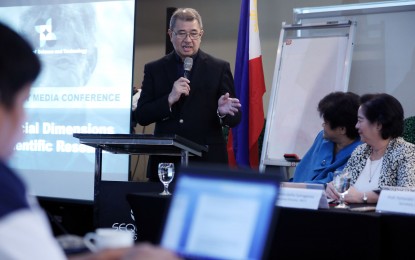 MANILA -- A region in Italy, through its Accademia Nazionale delle Scienze, has offered a partnership with the Department of Science and Technology (DOST) in liver research, Secretary Fortunato dela Peña said over the weekend.
Dela Peña recently visited Trieste, a region in Italy, which he described as having a dense network of academic and scientific institutions.
"The World Academy of Sciences (TWAS) is very famous (in Trieste). We already have a partnership with them, particularly (involving) UP (University of the Philippines)," dela Peña told the Philippine News Agency (PNA).
TWAS is a global science academy promoting scientific capacity and sustainable development in developing countries. Trieste, according to dela Peña, is a good place for science and technology as there are many institutions and startup companies there.
"We will focus on liver research. Jaundice, for instance, has a long-term effect on babies if not treated right away," he said.
Jaundice is caused by a buildup of waste material in the blood; an inflamed liver or obstructed bile duct.
"Liver cancer is also among the leading cause of deaths in the Philippines," dela Peña added.
The partnership of DOST and Italy further aims to develop a diagnostic device that could intervene in the development of liver cancer, the DOST chief said.
Two students from UP Manila will fly there by November. They are currently taking PhD sandwich program, which means they could spend their PhD training abroad for about a year, dela Peña explained.
Another two PhD students and at least one post-doctoral fellow will be sent to Italy soon, he added.
Italy's request, according to him, was to have a data lab in the Philippines.
Meanwhile, dela Peña said Italy is looking for other partnerships with the DOST in the future.
"They will conduct a European Scientific Forum in July, and they invited the DOST to see what (the Italian government) has to offer. There will be exhibits, forum to be participated by at least 60 countries," he remarked.
Dela Peña said he is happy with what he saw from Trieste, and the partnership offer.
He will send three council heads from the Philippine Council for Agriculture, Aquatic and Natural Resources Research and Development; Philippine Council for Industry, Energy and Emerging Technology Research and Development; and Philippine Council for Health Research and Development, to meet with small technology companies there, he said. (PNA)