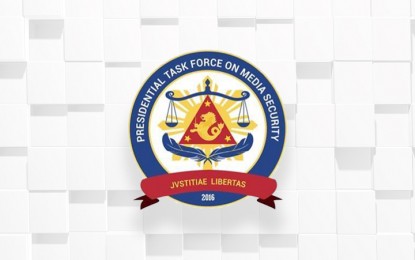 MANILA -- The Presidential Task Force on Media Security (PTFoMS) on Monday condemned the killing of Jupiter Gonzales, a columnist for tabloid Remate.
"The Presidential Task Force on Media Security is deeply saddened and condemns in the strongest possible terms the killing of Jupiter Gonzales," the PTFoMS statement read.
Arayat Municipal Police Station chief, Lt. Colonel Dale D. Soliba, told the PTFoMS that Gonzales and a male companion, identified as Christopher Tiongson, were on board a Nissan Almera when they were shot by unidentified men along Olongapo-Gapan road at Barangay Cacutud in Arayat town around 10:30 p.m. on Sunday.
Tiongson died on the spot while Gonzales was immediately rushed to Arayat District Hospital but was pronounced dead on arrival.
PTFoMS Executive Director Jose Joel Sy Egco immediately coordinated with the police operatives in Arayat to hasten the investigation.
Egco, who also writes a column for Remate, said the PTFoMS team was deployed to the crime scene on Monday morning.
Gonzales was known for being a staunch critic of illegal gambling proliferating in local carnivals.
The PTFoMS said any form of media violence is presumed work-related, "until further investigation proves otherwise".
"The Task Force is on top of the situation and is closely coordinating with the authorities regarding this incident and follow-up investigations are being closely monitored," it added. (PNA)