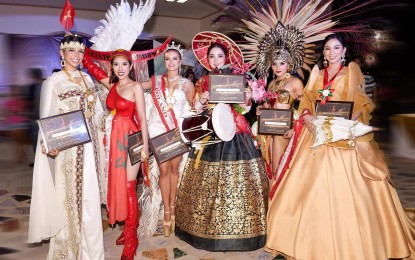 VIGAN CITY, Ilocos Sur—Barely two days before the October 27 grand coronation for Miss Tourism Queen Worldwide 2019, the Philippines bet, Theresa Diana Macalino Pazcoguin from Paniqui, Tarlac province is oozing with charm and confidence that she will claim the crown in this prestigious international beauty pageant.
Looking radiant in her golden Filipiniana attire with defined flower patches, Pazcoguin emerged as one of the top five winners in the search for best in national costume held at the Terraza de Niño Resort in Barangay Aggay, Bantay, Ilocos Sur.
She shared center stage with Miss Vietnam as fourth runner up, Miss Poland (3rd runner up), Miss Morocco (2nd runner up), Miss Mexico (1st runner up) and Miss Korea who bested 24 other candidates from around the world.
On October 21, Pazcoguin also won in the search for best in long gown competition as one of the highlights of the pre-pageant events in Ilocos Sur province. Other winners in the long gown competition were Miss Malaysia and Miss Mexico.
In an interview, Amy Sunio-Abarquez, international director of the pageant, said "the pageant aims to promote harmony and diversity through beauty pageant showcasing the majestic sights, colorful festivities, exquisite food, customs, traditions and the arts."
As town councilor in Cabugao, Ilocos Sur, Abarquez said the pageant is in close coordination with local government units in the province to help them promote their emerging tourist destinations by hosting the girls in their places.
"We are going to places to stir tourism and economic development particularly in Ilocos Sur," she added citing winners during the grand coronation night will receive cash and in kind prizes including having a memorable experience in the Philippines.
While in Ilocos Sur, the 25 candidates were brought to various tourist destinations including feeding village children in Pug-os, Cabugao town.
When sought for comment, Dr. John Weinstein, director of international affairs of Miss Tourism Philippines Inc., said "Filipinas are some of the most beautiful women in the world and I like to help showcase their beauty to the world through promotion of international beauty pageants and tourism."
He said despite the girls' differences, there is beauty in diversity which draws him to support this cause.
The grand coronation night is set at the Armed Forces of the Philippines Theater in Quezon City on October 27. (PNA)