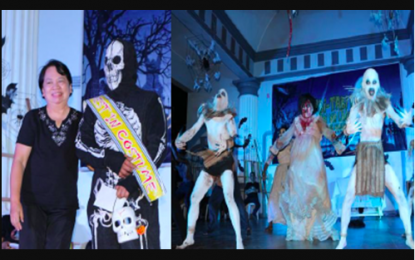 CALAMBA CITY, Laguna -- Scores of city folks and spectators were "freakily scared" on Saturday after a throng of spooky and creepy creatures were featured in a Halloween trick-or-treat event at the Old City Plaza, where the iconic "kalan-banga" (clay stove and jar) landmark in this city proper stands.
The event drew hundreds of costumed players from as young as two years old to senior citizens, replete with make-up for such creepy characters as the cursed doll "Annabelle", evil toy "Chucky", devil nun "Valak," zombies, monsters and other mythical creatures.
Leonardo F. Opulencia Sr., chief of the City Cooperatives and Livelihood Development, said the pre-Halloween event was staged to generate support funds to promote a culture of entrepreneurship especially among the Calambeño youths for their cooperative movement and facilitate provisions or marketing, training, facilities and technology.
The "fun walk for a cause" was spearheaded by Opulencia, in partnership with Cultural Affairs, Tourism and Sports Development Department (CATSDD) headed by Larissa Malinao, Sangguniang Kabataan Federation President Kenneth de las Llagas and the Calambataan Producers Cooperative, as a prelude to the city's observance of "Undas" (All Saints' and Souls' Days).
"This is one way to encourage participation and engagement of the young generation in creating sustainable livelihood programs for Calambeño entrepreneurs and cooperatives," Opulencia said.
The creepy "walk for a cause" started 7 p.m. Saturday where various youth groups, donned in spooky costumes, performed their Halloween-themed dance "rituals."
"This Halloween-inspired fun walk is being staged yearly for the youth sector's livelihood support especially the out-of-school youths to establish cooperatives and support their education, livelihood and other programs," Opulencia added.
Now on its second year, the project initiative has been supported by Mayor Justin Marc Chipeco, Vice-Mayor Roseller Rizal, the Sangguniang Panlungsod, and the SK Federation as a yearly event that draws hundreds of millennials who have the penchant for thrills and excitement.
Delas Llagas thanked the city government for endorsing the project, dubbed "Tabi, Tabi Po! Gabi ng Lagim – Parada ng Mga Nilalang Sa Dilim," which started as a youth gimmick and pre-Halloween treat, but is now staged annually to support the youth livelihood and coop program.
Malinao awarded the "Best in Costume" with PHP5,000 cash to a "walking skeleton," while other prizes of PHP2,000 each were presented to the scariest "cosplayers," and PHP 10,000 to the biggest parade delegation in Halloween costumes.
Prizes were also awarded to street and stage dancing contingents at PHP15,000 for the champion; PHP10,000, for the second prize and PHP5,000 for the third prize, while youngest and oldest participating costume players were also awarded PHP2,000 each during the culminating pre-Halloween party. (PNA)