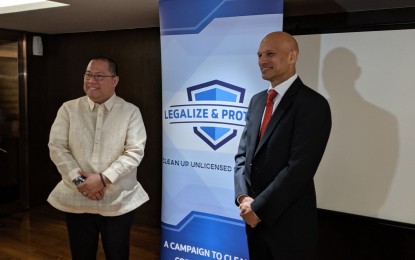 MANILA -- A partnership between software industry group Business Software Alliance (BSA) and the Optical Media Board (OMB) plans to eliminate the use of illegal software among Philippine businesses, citing risks to corporate security and reputation.
In a briefing Monday, BSA Senior Director for the Asia-Pacific Region Tarun Sawney said the widespread use of unlicensed software in the country exposes companies to various cyber threats such as data theft, ransomware, and network attacks.
"If you use unlicensed software, it would not be so much as illegal risk anymore like it was 10 years ago where you have to go to court and answer for infringing copyright. The biggest danger you now have is for your whole business, to your reputation. If you use unlicensed software, you do not have a first line of protection against cybercrime," he said.
As a result, businesses suffer losses from expenses on fixing system outages, downtime and disinfecting their networks.
The Philippines has a 64-percent rate of unlicensed software use among its businesses, which also increases the potential for malware infections due to lack of security features such as software patches and technical support.
A campaign of the BSA earlier this year found that out of 6,220 companies they have contacted, only 1,375 companies or 22 percent switched to legal versions of their software.
"Licensed software does not guarantee you that you will not be hacked, or you will not be a victim of malware. But if you have unlicensed software, you're almost guaranteeing you will fall victim to this," he added.
OMB Chairman lawyer Anselmo Adriano urged Filipino companies to only use computer software that has a proper license and shun the use of illegal software.
The main program of the partnership is the Clean Up to the Countdown campaign, which seeks to encourage 10,000 local companies from a wide range of industries to purchase legal copies of unlicensed software that they are using.
Under the campaign, the BSA is contacting thousands of corporate leaders to offer guidance and advice in addressing the use of illegal software in workplaces and make them compliant with intellectual property laws.
The campaign is part of Legalize and Protect initiative launched earlier this year by the BSA, which has helped thousands of Philippine companies to legalize their software assets and secure themselves from cyber threats.
The BSA is an international group composed of companies that produce software for various business applications, with Microsoft, Adobe and IBM as some of its global members. (PNA)