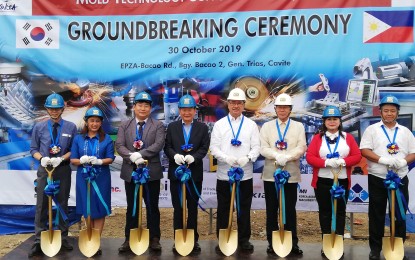 MANILA -- The Philippines, through the Department of Science and Technology (DOST), and the Korean government, on Wednesday led the groundbreaking ceremony of the Mold Technology Support Center (MTSC) in Cavite, which aims to provide human resource development and technology upgrading for molding companies.
DOST Secretary Fortunato dela Pena said all molding companies nationwide are welcome to use the facility.
MTSC will be manned by Filipino engineers or trainers, who are currently being trained in Korea, he said.
The center will rise in a PEZA (Philippine Economic Zone Authority)-owned land near the Cavite Economic Zone.
"We want our workers to be skilled, world-class," PEZA director Charito Plaza said.
South Korean Ambassador to the Philippines, Han Dong-man, told reporters that the center would provide an opportunity to the mold industry to enhance capabilities.
Mold technology, he said, is needed to develop more fundamental technologies.
The Korean government has allotted USD8 million as financial support for the MTSC, the ambassador added.
Dela Pena thanked Han for the support and also because the ambassador has been "very instrumental" in the bilateral agreement of Philippines and Korea in the area of science and technology (S&T).
Speaking to reporters, Han has acknowledged that S&T is very important.
"Part of our S&T mandate is to increase the competitiveness of our industries. The (MTSC), also intends to promote human capital development," dela Pena added.
Meanwhile, DOST-Metals Industry Research and Development director Robert Dizon said companies in the molding industry are those which manufacture almost everything that one could see in a household --bottles, gadget casings, food containers, toilet seats, among others. (PNA)