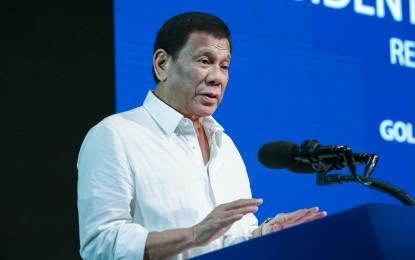 MANILA – President Rodrigo Duterte will continue monitoring the situation in the Philippines, especially in the quake-hit areas of Mindanao, while he is away from the country, Malacañang said on Friday.
The President remains "on top of the situation," despite his decision to fly to Thailand on Thursday afternoon to attend the 35th Association of Southeast Asian Nations (Asean) Summit and Related Summits on Nov. 2 to 4, Presidential Spokesperson Salvador Panelo said.
Panelo said Duterte would still perform his duties as the country's Chief Executive even after he signed Special Order 1182, designating Executive Secretary Salvador Medialdea as the government's officer-in-charge (OIC).
"We wish to announce that President Rodrigo Roa Duterte will push through with his commitment with Asean and will be leaving for Bangkok, Thailand today, November 1, to join other Heads of Governments and States of fellow Asean member-states and dialogue partners to attend the 35th Asean Summit and Related Summits," Panelo said in a statement.
"We assure our people that the Chief Executive remains on top of the situation, monitoring the situation in the Philippines, especially the earthquake-hit areas of Mindanao," he added.
Duterte's participation in the 35th Asean Summit and Related Summit in Thailand will push through, even though several parts of Mindanao were hit by a 6.5-magnitude earthquake on Thursday.
Duterte on Thursday directed all concerned government agencies to provide immediate assistance to quake victims in Mindanao.
On Oct. 30, the President signed Special Order 1182, mandating Medialdea to "take care of the day-to-day operations in the Office of the President and oversee the general administration of the Executive Department."
Medialdea, as OIC on Nov. 1 to 4, may also "act for an on behalf of the President, except on matters that the President is required by the Constitution to act in person," during the days when Duterte is out of the country.
Summit an opportunity to share views on 'pressing matters'
Panelo said the President considers the annual fora organized by the 10-man Asean members as an opportunity to share his views on several "pressing" issues.
"The Palace looks forward to the President's participation in the above-mentioned summits aimed to further enhance economic growth within a peaceful environment, and regional and global stability in the years to come," the Palace official said.
"The delegation meanwhile is excited to witness the President make our country and citizenry proud once again as he discusses his views and shares his insights on pressing matters that will be tackled in the summits," he added.
Panelo said Duterte would grace the Asean Plenary Summit that will be attended by the leaders of the regional bloc's member-states.
He added that the President would also join the nine other Southeast Asian leaders in the the 22nd Asean-China Summit, the 16th Asean-India Summit, the 10th Asean-United Nations Summit, the 22nd Asean plus Three Summit, the 7th Asean – United States Summit, the 14th East Asia Summit, the 22nd Asean-Japan Summit, and the 3rd Regional Comprehensive Economic Partnership Summit. (PNA)