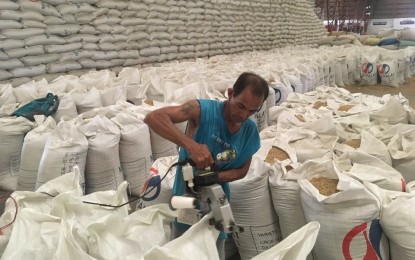 ILOILO CITY -- The National Food Authority (NFA) in Iloilo has surpassed its target for palay procurement in October.
The authority has set its target at 120,000 bags and has purchased a total of 358,000 as of the last day of October, Pat Espinosa, NFA-Iloilo information officer, said in a phone interview Tuesday.
The NFA-Iloilo also exceeded its target in September, buying 200,000 bags of palay out of the 130,000 target.
Espinosa said the authority buys dry and clean palay at PHP19 per kilogram.
Surpassing the target shows the intensified palay procurement of the NFA to help small farmers in the province overcome the low palay prices, he said.
For November, the authority eyes to procure 170,000 bags of palay. "We are positive that we can reach that target. Although some areas in the province have already harvested palay, we still have standing crops in Pototan town area and that we eye to cater," he said.
The authority also mulls to open its warehouse in Dueñas town since the one in Pototan can no longer accommodate additional bags of palay.
"The palay stored in Pototan warehouse already reached the alleys. In mid-November, we will open the warehouse in Dueñas to cater to more farmers," he said.
The mobile buying stations of the NFA-Iloilo continue and have visited more towns, he said.
Aside from this effort, the authority also agreed with local chief executives to transport their palay to NFA's main office in this city's Jaro district.
"The palay from towns are being transported through the local government unit's vehicles and we have express lane here in the main office to cater them first," he said.
The towns of New Lucena, San Miguel, San Enrique, Miag-ao, Lemery, among others, had so far facilitated the transport of palay from their respective localities to the NFA.
The NFA also commended the Iloilo provincial government's loan aid to farmer cooperatives to assist small farmers from the impact of the Rice Tariffication Law.
The province's loan aid was accessed by 12 farmer cooperatives, which will purchase palay at premium prices from small farmers. (PNA)