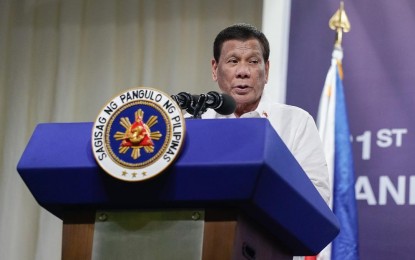 MANILA -- President Rodrigo Duterte has directed authorities to conduct a thorough investigation into the killing of a radio blocktimer in Dumaguete City on Thursday morning.
Speaking to Palace reporters, Presidential Spokesperson Salvador Panelo said Duterte wanted to put the killers of Dindo Generoso, broadcaster and blocktimer of dyEM FM Bai Radio, behind bars.
"We would like to condemn the killing of a broadcaster [and] blocktimer Dindo Generoso who we understand was killed at around 7:25 this morning," Panelo said in a Palace press conference.
"The President has directed the authorities to conduct a thorough investigation and to prosecute those behind the killing," he added.
Generoso was driving his Hyundai Elentra on his way to work when a riding-in-tandem shot him to death at around 7:25 a.m. in Piapi village in Dumaguete City, Negros Oriental.
Generoso died instantly after sustaining eight gunshot wounds, the local police reported. The unidentified assailants fled immediately after the shooting incident.
Perpetrators won't go unpunished
Presidential Task Force on Media Security (PTFoMS) co-chairperson Undersecretary Joel Egco said his office is "on top of the situation," and is in close coordination with the Dumaguete City Polic Station to determine the motives of the perpetrators of the gruesome murder.
He said the PTFoMS presumes that the killing of Generoso is "work-related," unless the results of the investigation prove otherwise.
"This dastardly deed will not go unpunished. Whoever is behind this senseless murder will be brought to justice," Egco said.
"Blocktimers have been particularly vulnerable because of their involvement with politicians as a whole. The Task Force calls on our various media groups and stations, and all media practitioners to take a deeper look into the practice of blocktiming vis-à-vis its inherent dangers," he added.
Legal aid to Generoso's family
In a separate statement, Presidential Communications Operations Office Secretary Martin Andanar vowed justice for Generoso's death.
Andanar, co-chair of the PTFoMS, assured Generoso's family members that they would get legal assistance from the government.
"We are extending our deepest sympathies to the family of Mr. Generoso in this time of grief and we are with you in seeking justice," he said.
"We will take the necessary action to ensure justice for Mr. Generoso's family. As co-chair of the Presidential Task Force on Media Security (PTFoMS), we will extend the necessary legal assistance and other support needed by the Generoso family," Andanar added.
Andanar also guaranteed that the PTFoMS would make sure that media practitioners in the country are enjoying protection and security under the Duterte's leadership.
"Hence, we commit that no stone will be left unturned when it comes to dealing with media killings. We will continue to fight for peace, and the freedom of the press to do their job without threats of retribution," he said.
"As we have done in the past, the PTFoMS will be on top of the situation and will constantly and actively coordinate and cooperate with relevant agencies in order to resolve issues that affect media practitioners in the country," the Communications chief added.
Generoso's 8 a.m. radio program in Bai Radio is sponsored by the Dumaguete City government, as it serves as an extension of its public information office, Egco noted.
He was an anchor for development programs of the local government, including a controversial reclamation project that was halted by the Department of Environment and Natural Resources last week.
Generoso also ran for the mayoralty post during the May 2016 elections but lost.
He is among the 22 blocktimers killed since 2003, according to the PTFoMS database. (PNA)