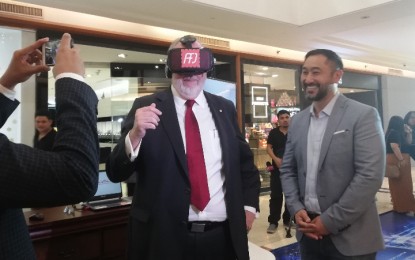 MANILA -- An interactive 360-degree video of the coastal village that was hit by Super Typhoon Yolanda (international name Haiyan) six years ago is the centerpiece of a non-government organization's exhibit in Makati City.
Postcards From Disasters' (PFD) partnered with Australian technology company VRTY to produce an interactive video featuring the community of 68-Anibong in Tacloban City that will run from November 8 to 14.
VRTY chief executive officer Kingston Lee-Young aims to promote education and awareness through virtual reality (VR) among Filipinos by providing his company's innovative technology for the exhibit free-of-charge.
"The virtual reality experience will provide the viewers with knowledge of how the people who survived Typhoon Yolanda in 2013 are living today without necessarily visiting the site," Lee-Young said in an interview during the exhibit launch on Friday.
Visitors will use VR headsets provided at the exhibit space. They can also choose to watch the video in 360-degree view via computers displayed at the setup.
PFD founder Makoi Popioco also shared that some photos taken by children living in the site were incorporated in the video.
"We taught these kids to use a camera so they can document the events on their own because they are the ones who live there, we as journalists only visit a few times. It is a brilliant way to educate them and at the same time, learn from their perspectives," he said in an interview during the media launch.
The next leg of the exhibit will be staged at the De La Salle University campus to reach more of the younger demographic.
"We aim that the viewers will be more aware of the living conditions of the people. And we also hope that they would feel empathetic towards them especially that these people are the ones who suffer most when it comes to pressing issues like climate change," Lee-Young added.
VRTY has also tapped several state universities to introduce the improved educational tool.
"The Polytechnic University of the Philippines is currently doing preparations for an interactive 360-degree video of their campus, so those who want to visit their school but cannot because of distance or other issues get a peek of how it is like to walk inside the school," he said.
Australian Ambassador to the Philippines Steven Robinson, who also tried the VR experience, said that it is important to remember and think of all the people who suffered the onslaught of the typhoon even if it was years ago.
"We need to remember it so we can learn from it. It is a tremendous display of education and we are able to experience what it is like being out there," he added.
The Australian government has provided the country with 30 million Australian dollars (PHP1.2 billion) as their contribution to the recovery effort for the devastation in Tacloban City in 2013. (PNA)