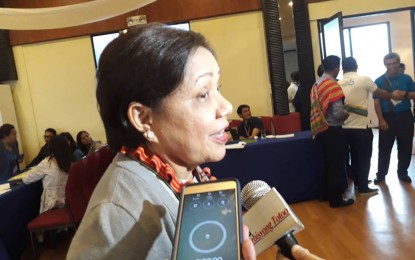 MANILA – The chairperson of the Senate Committee on Environment and Natural Resources on Friday backed President Rodrigo Duterte's recent pronouncement regarding the possibility of a nationwide ban on the use of plastics.
Senator Cynthia Villar said the possible ban is urgent as she cited a 2015 report on plastic pollution by the international group Ocean Conservancy and McKinsey Center for Business and Environment showing that the Philippines is one of the world's largest producers of plastic wastes that end up in the ocean.
"With the President taking the lead in this campaign, I am confident we will be making significant headway and finally remove us from that disconcerting title as one of the world's largest producers of plastic wastes," Villar said.
Villar has filed Senate Bill No. 333 or the Single-Use Plastic Product Regulation Act, which seeks to regulate the manufacturing, importation, and use of single-use plastic products.
"With our dependence on agriculture, plastic pollution also poses a grave threat to our food security. Disaster risks and hazards arising from plastic pollution may put farms at risk of flooding resulting in wastage of agricultural products along with its threats to a balanced ecology," Villar said.
"Microplastics leaked in our bodies of water may also put public health at risk as it gets into our food chain," Villar added.
The bill proposes to prohibit the issuance of the single-use plastics by food establishments, stores, markets, and retailers.
Consumers will also be diverted to use reusable materials and manufacturers will be mandated to collect, recycle and dispose of single-use plastics manufactured or in circulation in the general market.
Under the measure, retailers shall charge the consumer a minimum levy of PHP5 for each piece of single-use plastics already manufactured, in circulation, and for use in a transaction.
The bill seeks to penalize violations of business enterprises, micro, small and medium enterprises with a fine ranging from PHP10,000 to PHP100,000 and suspension or revocation of business permit.
Meanwhile, value-added tax (VAT) registered enterprises, establishments, and stores, and for all plastics manufacturers found violating this proposed act will have penalties ranging from a fine of PHP100,000 to PHP1 million and suspension or revocation of business permit.
The bill also creates a Special Fund for Single-use Plastic Regulation composed of collected tariffs, levies, and fees, which shall be used for the establishment of recycling centers, and assistance and incentives for manufacturers and community-based initiatives for the reduction of single-use plastics.
President Duterte raised the proposal to prohibit the use of plastics during his "productive" discussions with Cabinet members at Malacañang Palace on Wednesday night.
"The President floated the idea to ban the use of plastics, which according to him would require legislative action," Presidential Spokesperson Salvador Panelo said in a statement.
The Philippines uses a "shocking" amount of single-use plastic, including nearly 60 billion sachets a year, according to a March 2019 article published by Agence France-Presse, quoting the report by the non-government organization Global Alliance for Incinerator Alternatives.
The report found out that almost 48 million shopping bags are used throughout the Philippines daily, adding up to more than 17 billion a year.
It noted that the figure excludes around 16.5 billion smaller, thinner, and transparent plastic bags used every year across the country. (PNA)