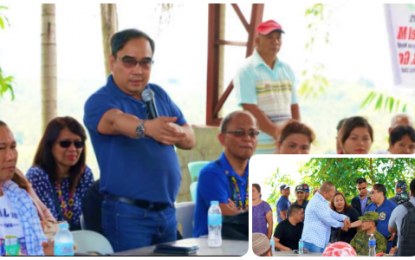 AMPATUAN, Maguindanao -- Maguindanao Rep. Esmael "Toto" Mangudadatu, Army division commander, Maj. Gen. Diosdado Carreon and Presidential Task Force on Media Security (PTFoMS) Executive Director Joel Egco led the commemoration of the country's bloodiest pre-election related incident in Sitio Masalay, Barangay Salman here Saturday.
It has been 10 years since 58 persons, including journalists, were brutally murdered by gunmen allegedly led by Mayor Andal "Datu Unsay" Ampatuan Jr.
The families of the victims who were at the massacre site, together with Mangudadatu and Egco were all praying for the conviction of the culprits to put an end to the gruesome murders and give justice to the slain victims.
Mangudadatu, now representing Maguindanao's second district, lost his wife Genalyn and two sisters in the carnage.
Prosecution lawyer Nena Santos also attended the commemoration.
Egco said he is optimistic the court will decide in favor of the victims' kin even as he urged them to patiently wait for the results of the trial.
The relatives are hoping and praying that Judge Jocelyn Solis Reyes of the Quezon City Regional Trial Court Branch 221 will decide in their favor.
"We expect conviction and we are optimistic that it should not be the other way," Mangudadatu said in the vernacular.
The victims were on board several vehicles to file the certificates of candidacy of then Vice Mayor Mangudadatu who was to seek the provincial top post when gunmen, led allegedly by Ampatuan Jr., flagged them down along the national highway on November 23, 2009.
The victims, despite repeated appeals and pleadings, were brought to hilly Sitio Masalay and murdered in cold blood.
Egco told reporters that President Rodrigo Duterte is closely following the development of the prosecution since he assumed office as the country's chief executive.
To the victims' relatives, he said that: "justice is near."
"Wait for the verdict from December 5 to 12," Egco said. (PNA)