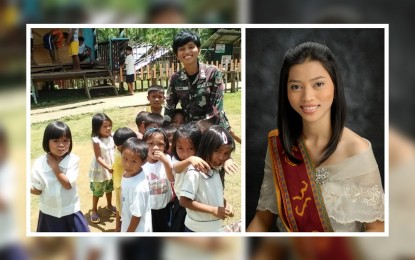 MANILA -- When she was younger, 29-year-old 1Lt. Marjorie Siwa already planned that she would pursue law -- earn well, be a private individual, and have a good life.
But in college, she decided to give herself some challenge through joining the Reserve Officers Training Corps (ROTC).
"In my stint in UP, first year, may choice kami kung ano yung kukunin namin (we are given the choice on what we want to take up) [I wanted to] be challenged, [I wanted to] strengthen my leadership skills," she shared in an interview with the Philippine News Agency.
Siwa said that she used to have wrong impressions about the military before she did her training.
"Before, my perception of the military is purely one-sided, one dimensional, fight lang (it's purely about fighting). [I really thought], napaka stoic naman, hindi (They are so stoic and not so) approachable. Pero nung sumali na ako (But when I joined), I realized it is different. Para ka maka-survive sa military kailangan mo ng (To survive in the military, you need) intense discipline, commitment to serve, hard work," she said.
She graduated from ROTC's Military Science 1 in 2008 while she was taking up Political Science at the University of the Philippines in Diliman.
When she got her degree, she worked for the Armed Forces of the Philippines (AFP) as a civilian employee.
"When I was a civilian employee, na-amaze ako sa lawak ng work na ginagawa ng (I was amazed with the scope of work done by the) AFP. (I was also amazed with the) dedication (of) men and women in uniform, nakikita ko yung mga sundalo kahit na (I see the soldiers) day and night, Pasko, ano ba nakukuha nila (What do they get for Christmas?)," she said.
"Iba pala yung satisfaction (The satisfaction is different). That's when it hit me, I want to take it a step further. I joined the force" she added.
At present, she supervises civil-military engagements as an administrative officer of the 9th Infantry Division in the Bicol Region.
The Army hopes to see more Siwa in the force as the country is falling far behind its neighboring regions with regards to citizens who acquired military training.
It paved the way for President Rodrigo Duterte to order a comeback for mandatory ROTC among Filipino students.
Lobbying the Mandatory ROTC Bill
There are only 59,637 graduates from both basic and advanced training of the ROTC in 2015-2016. In 2017-2018, it reached a low of 46,936, according to AFP spokesperson Marine Brig. Gen. Edgard Arevalo.
Reservist General Rolando Rodil was the one who drafted the proposed bill making ROTC mandatory among senior high school students. He explained in an earlier interview that, much as what he had experienced, the ROTC will instill discipline and love for country among the Filipino youth.
"I credit my current state to the things I learned from ROTC. Magandang program para ma infuse ang mga values ng love of country, patriotism sa ating mga kabataan (It is a good program to infuse values of patriotism among our youth)," he said.
Rodil said the need to make the ROTC mandatory among senior high school students is prioritized because the military is targeting a bigger pool of resources latest data from the Commission on Higher Education (CHED) and Department of Education (DepEd) show only 20 percent of high school graduates reach college.
Rodil said the curriculum if the mandatory ROTC bill passes as law, would require students to take the training to qualify for graduation. The AFP will conduct meticulous screenings for future instructors and will only allow officers in the best practice to teach students.
The role of reservists, the general added, are (1) based on the expansion of regular force in case of war, rebellion; (2) to assist in disasters, socio-economic development, (3) secure vital government utilities: water and power, the AFP reserve units will help with defense preparedness; (4) and warfighters.
"They will be the first responders, nation builders, and guardians of private and public utilities," he added.
ROTC Summit
On December 5, around 2,500 ROTC cadets from selected colleges and universities and uniformed personnel in the country will attend a summit in Quirino Grandstand to celebrate and drum up support for the ROTC.
The event is being organized by the Office of the President through the Presidential Management Staff (PMS) and Presidential Security Group, in coordination with the Department of National Defense and the AFP through the Office of the Reservist and Retiree Affairs (OJ9).
The activity will feature the silent drill.competition from among the best in the Philippine Military Academy (PMA), Philippine National Police Academy (PNPA), Philippine Merchant Marine Academy (PMMA), Maritime Academy of Asia and the Pacific (MAAP), Philippine Army Officer Candidate School (PAOCS), Philippine Navy Officer Candidate School (PNOCS), and Philippine Air Force Officer Candidate School (PAFOCS).
The units are vying for the top prize of P300,000; the second placer will receive PHP200,000, and the third will get PHP100,000.
A PHP50,000 consolation prize will be given for each of the four other units. (PNA)