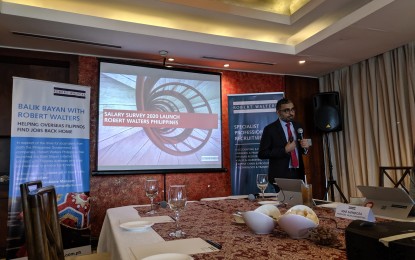 MANILA -- Employment benefits and career progression, rather than salary, are currently the most important considerations for Filipino professionals who consider moving to another job, recruitment consultancy firm Robert Walters said on Tuesday.
At a media briefing in Makati, Robert Walters announced the release of the 2020 Salary Survey for the Philippines, detailing the sentiments among 400 mid to senior professionals in the country regarding their motivation to move jobs and expectations for staying in their roles.
"Salary is not the sole motivator anymore. It's now about being open about career progression and how creative companies can be about benefits," Monty Sujanani, Director for Robert Walters Philippines, said.
For professionals working in the accounting and finance, banking and financial services, human resources, sales and marketing, supply chain, procurement and logistics, and the technology and transformation sectors, the survey found that career progression, along with better compensation and benefits, ranked consistently among the top considerations in changing jobs.
"It's really not just about the salary (but) flexible working arrangements, creative leave balances, so it's really about how to be creative with benefits. And the second motivator about candidates changing jobs is career progression. So almost 30 percent of professionals said that career progression is their primary motivation of changing jobs," he added.
The survey also predicts that job movers expect an average of 20 to 40-percent salary increase for 2020, which employers should consider in their recruitment policy given the highly competitive job market today that values talent and workplace skills.
Meanwhile, more than 50 percent of professionals expect bonuses of above 15 percent to their yearly salaries for them to stay in their jobs.
Apart from professional concerns, the survey reported the robust demand for local talent this year by sectors due to the continued digitalization of businesses and the "Build, Build, Build" infrastructure program of the government.
For the coming year, updated government regulations, the growth in financial technology, and the large potential of the Philippine market are expected to drive demand for recruiting more professionals, as businesses tap into opportunities. (PNA)