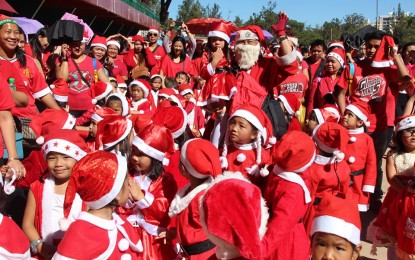 BAGUIO CITY - The 46th edition of the Silahis ng Pasko will kick off Sunday (Dec. 1) with the Children's Mardi Gras that attract more than 4,000 pre-school learners in their Christmas attire and their parents for the annual kilometer walk from Upper Session Road to the Melvin Jones in Burnham Park here.
But the question is "Where is Santa?"
The traditional Santa Claus who herds the thousands of young schoolers in the past 45 years passed away last March 3 and City Social Welfare and Development Officer (CSWDO) Betty Fangasan feels lonely and at a loss with the absence of the man who started the month-long Silahis 46 years ago: Narciso Padilla.
"It was our apprehension after Mang Nars died," admitted the OCSWD head who heaved a big sigh of relief when Padilla's youngest son volunteered to continue the legacy of the late former city councilor.
"The legacy lives on," said the 50-year old Fritz Gerald Padilla, who will run the December series of events with the elder Padilla gone.
Fangasan said the 4,000 young learners will come from the six units of daycare centers.
Unit 1 will be attired in bells, stockings, Santa hat, candies, gingerbread, and wreath.
Unit 2 will don fruits and vegetables; unit 3 in nativity (kings with gifts, stars, angels and shepherds); unit 4 will be Santa Claus, carolers, and drummers, unit 5 in candy cane, candles, Christmas gifts and balls, and cards; and, unit 6 will be attired in flowers (gumamela, mistletoe, poinsettia, rose, sunflower and daisy).
Fritz Gerald will be Santa Claus on Sunday and on December 25 with the annual selection of the Lucky Christmas Baby.
He said the various events lined up for the month are: Lucky Christmas Family and Immaculate Concepcion Mass at the Shrine of Brown Madonna on December 7 and 8; Special Olympics for Special People (persons with disabilities) on December 15 at Session Road; the share a joy gift-giving for cancer patients on December 22; the Christmas Day Lucky Christmas Baby; the TALA and KISLAP award for elderlies and athletes, respectively, on December 30 and the Lucky New year's Baby on January 1.
There will be a closing ceremony at the Shrine of the Brown Madonna in Tadiangan, Tuba, Benguet on Jan. 5, 2020.
The December 1 event is also part of the opening events of the "An Enchanting Christmas" in Baguio festivity that will have the lantern parade by the Saint Louis University at 6 p.m., the lighting of the Christmas tree and lights at Session Road, the lights at the Peoples Park and fireworks.
Last Nov. 24, the Enchanting Baguio Christmas opened the Christmas Village at the Rose Garden, Burnham Park where the Bayanihan Dance Troupe from the Cultural Center of the Philippines (CCP) performed on Saturday and the Philippine Harmonic Orchestra played popular and Christmas songs on Sunday. (PNA)