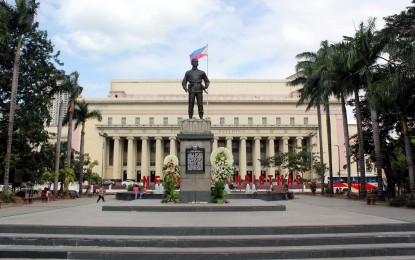 MANILA — The entire nation is set to commemorate on Saturday the 156th birth anniversary of Gat Andres Bonifacio, who is considered as the "Father of the Philippine Revolution."
Unlike other gallant heroes of the country including Jose Rizal, Bonifacio is remembered on his birthday, Nov. 30, 1863, rather than the date of his death, May 10, 1897.
This is because he died in the hands of his fellow countrymen and was not killed by foreign colonizers.
On July 7, 1892, Bonifacio led the establishment of the secret revolutionary movement "Kataas-taasang, Kagalang-galangang Katipunan ng mga Anak ng Bayan" more commonly known as "Katipunan," to secure the Philippines' independence from Spain.
Bonifacio was one of the chief Katipunan officers and emerged as the "Supremo" (Supreme leader) in 1895.
The Bonifacio-led Katipunan inspired many Filipinos to join the movement, which eventually became the most prominent revolutionary force the Spaniards faced.
However, Bonifacio's rule was opposed by some, including Emilio Aguinaldo who violently took over the revolutionary force in 1897.
It was also Aguinaldo who ordered Bonifacio to be tried and executed under the guise of treason.
On May 10, 1987, Bonifacio was killed, not by Spanish colonizers, but by Katipuneros themselves.
Twenty-four years after Bonifacio's death, Republic Act No. 2946 was enacted but the Philippine Legislature decided to make November 30 of every year a national holiday to commemorate his birth anniversary.
The national government is expected to hold wreath-laying rites at the monument of Bonifacio in Caloocan City on Saturday.
Meanwhile, workers are expected to get paid twice their regular daily wages on Bonifacio Day, a regular holiday, which falls on Saturday. (PNA)