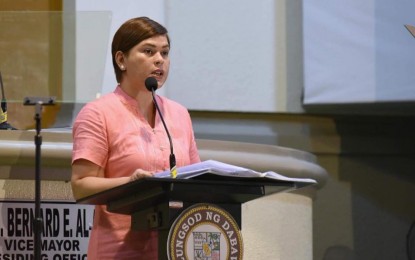 MANILA -- President Rodrigo Duterte on Friday said his daughter, Davao City Mayor Sara "Inday" Duterte-Carpio, will not seek the highest public office in the country.
The President made the remarks as he reiterated that he would not allow his daughter to follow in his footsteps for fear that she would only be bombarded with criticisms, should she become his successor in 2022.
"I told her, 'No, do not run.' She will not run kasi sabi ko maawa ako sa 'yo (because I'd just pity her). Ano nang gawin mo? Karaming isipin nitong mga u***, akala kasi nila bright sila (What will you do? These fools who think they are bright would have a lot to say) and they (will) come up with all sorts of scenarios," he said in a one-on-one interview with CNN Philippines.
"Ako ayaw ko. Ibang tao na lang, kasi bababuyin niyo lang anak ko (I don't like that. Just look for another person because they would just assail my daughter)," he added.
Duterte has repeatedly discouraged Sara from seeking the presidency, warning her that taking on the challenge as the highest official of the land might only "destroy" her.
Sara earlier floated the possibility that she might run for president in 2022 and promised to decide by January 2021.
The President has less than three years in office.
He said he and his party mates from the ruling Partido Demokratiko Pilipino - Lakas ng Bayan have yet to talk about their possible candidate for the 2022 presidential race.
He added that he has no plan to groom anyone to be his successor.
"My party mates do not talk to me about politics. Alam nila yun kasi (They know that) I get peeved," Duterte said. "'Yung sinasabi nilang 'yung anak kong si Inday, naaawa ako. Anak ko eh. Sabi ko, mamili tayo ng iba kung gusto ninyo if you want me there in the game (They want my daughter, Inday, to run but I pity her because she's my daughter. I said look for someone else if you want me there in the game)."
Meanwhile, the President said he has no advice for the country's next president, noting that he would let his successor act on his own in addressing the pressing issues in the country.
"Do it on his own. Let him find the qualities that the people are looking for," Duterte said. "Wala akong (I don't have any) suggestion. This country will continue without me starting it or stopping it. Hindi naman hihinto ang mundo para sa akin (The world will not stop for me). So let the other guy found out what he should be doing." (PNA)