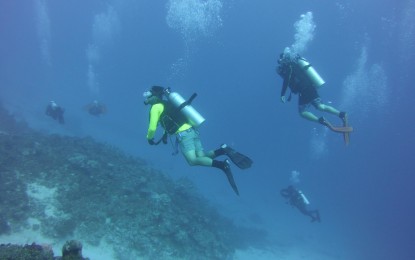 DAVAO CITY -- Documentation of possible diving sites in the City of Mati, Davao Oriental continues as divers from both the private and government sectors continue their search on their second week.
The activity was conducted on Saturday, where the participants came from the City Mayor's Office (CMO), City Environment and Natural Resources Office (CENRO), City Disaster Risk and Reduction Management Office (CDRRMO), Philippine Coast Guard (PCG), Philippine Red Cross, barangay officials of Tamisan, and Stefan Mikhail Rabat of the private sector.
It was conducted in the two dive sites in Barangay Tamisan, particularly in Waniban Island and Tagaliling- Tamisan MPA Managers and Fisherfolk's Association (TAMPAFAS) Marine Protected Area.
The two dive sites are located at the Pujada Bay Protected Area Seascape and Landscape, which was recently named as one of the most beautiful bays in the world.
The activity aims to locate areas having rich biodiversity particularly the Coral Reef Richness and Diversity, to help promote tourism in Mati City.
In November, Mati lifted the banning of dive explorations in the city, as they revived the search for possible dive sites in Pujada and Mayo bays.
A statement said that the dive exploration started more than six years ago but was discontinued by the administration that replaced Mayor Michelle Rabat in 2013 until 2019.
Now that she is back on the seat, Rabat decided to revive the dive site exploration with the hope of boosting tourism in the city of Mati.
Over the weekend, businessman and diving enthusiast Miko Rabat, brother of the mayor, invited fellow divers Bong Chavez and Curtis Cooper to explore Manggihay Beach in Pujada Bay.
In August, the Department of Tourism in Region 11 (DOT-11) held a series of dive validation activities in Mati City and the municipality of Tarragona, Davao Oriental which revealed more potential sites for diving operations. (PNA)