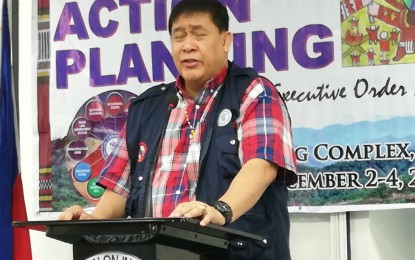 BAGUIO CITY-- Indigenous peoples in far-flung communities are the most affected by the insurgency problem, the chair of the National Commission on Indigenous Peoples (NCIP) said on Monday.
"The insurgents are in the communities, mostly in indigenous cultural communities, within the ancestral domain of the indigenous peoples," Allen Capuyan said during the start of the three-day regional action planning in line with Executive Order 70 here from Dec. 2 to 4.
EO 70 is the institutionalization of the whole-of-nation approach to end local communist armed conflict with the creation of a national task force for that purpose.
Capuyan, who is also National Task Force to End Local Communist Armed Conflict (NTF-ELCAC) executive director, said there is a need for the IPs to understand the insurgency problem for them to define their needs for inclusion in the regional action plan.
The regional planning workshop is attended by regional agency heads, NCIP college scholars, and representatives with Indigenous Peoples Mandatory Representatives (IPMR) from the six provinces, municipalities and barangays in Cordillera Administrative Region.
"We have to use the lenses of the IPs for us to see and appreciate their situation, make sure that they are not set aside in the action plans," Capuyan said.
He said in achieving the goal, good governance should be in place even in the far-flung villages where there is a perceived absence of government services.
"This perception makes the people vulnerable to the terrorists," Capuyan said.
Capuyan said the regional action plan that will be produced in the three-day session will be the region's blueprint, submitted to the regional task force (RTF) ELCAC headed by the Cabinet Officer for Regional Development and Security (CORDS) Cordillera for adoption.
It will be then transmitted to the NTF-ELCAC for inclusion in the national action plan.
Capuyan said the effort to end communist armed conflict in the country is intelligence-driven and by giving the real picture of the insurgency situation to the most affected people.
Capuyan said the insurgency problem has been present for 51 years.
"While the security operation is successful and government funds poured for rural development, the problem persists because some do not feel that the government is present. Its failure is due to the lack of a synchronized effort. We need to unite as government and we need unity as a country so that our funds for projects can be felt by the people, "he said.
Capuyan said the local initiative to end local communist armed conflicts will continue, incorporating all government efforts and all sectors together toward the goal of ending insurgency and improving the lives of the people, the IPs in far-flung communities.
Capuyan said there are 16 million Filipino IPs occupying 30 percent of the total land area of the country who, if united toward peace and development, will make a better life for themselves. (PNA)