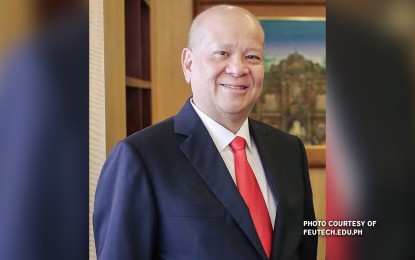 MANILA -- San Miguel Corp. (SMC) president and chief executive officer Ramon S. Ang has urged every Filipino to practice kindness and humility daily to achieve a better Philippines.
Ang made his call in his speech read for him by his son, Jomar, during the awarding ceremony for The Outstanding Filipino (TOFIL) award for 2019 held at the historic Manila Hotel on Monday (Dec. 2).
Jomar said his father could not attend the TOFIL award due to an "important" previous commitment.
The elder Ang topped the TOFIL award for 2019 for steering SMC's successful diversification to other business ventures from beer manufacturing to infrastructure development, including airport, petro-chemical, and transportation, among others, under the category of Business/Entrepeneurship.
The other awardees were Glenn S. Banaguas (Environment Conservation and Science Diplomacy, Dr. Joselito R. Chavez (Medicine), Virgilio L. Malang (Science and Technology), Noel E. Rosal (Government/Public Service), and Nelly Siababa-Aggangan (Agriculture).
SMC is currently constructing a modern world-class international airport in Bulacan to enable the country to be competitive in airline travel in the years to come.
Ang reiterated the importance for Filipinos to "love our country" to enable them to improve their lives.
"Be kind and humble…every single day as this will make the Philippines a better country," Ang said.
President Rodrigo R. Duterte sent written message to the TOFIL organizers, extending his "warmest greetings to the JCI (Junior Chamber International) Senate Philippines".
"For decades JCISP has honored distinguished Filipinos in various fields for being models of excellence and hard work in their respective professions," Duterte said.
"I thus congratulate this year's awardees for their vital contributions in uplifting the welfare of our people," he added.
The President is hoping the TOFIL award "inspire everyone to a greater commitment in our shared task of national-building so that future generations can enjoy a country where hope, equality and optimism abound."
The announcement for this year's TOFIL awardees was disclosed by national chairman JCI Senator Melandrew T. Velasco and Board of Judges chairman, Supreme Court Administrator Justice Jose Midas Marquez.
The TOFIL awardees each received a 27-inch trophy designed by National Artist for Visual Arts Napoleon Abueva.
Other members of the Board of Judges were TOFIL Foundation chairman JCI Sen. Rogelio "Bicbic" Garcia, JCISP president Domingo "Jun" O. Roque Jr., 2010 TOFIL awardee Shirley Halili-Cruz, and PCCI chairman Emeritus Dr. Francis Chua.
The TOFIL Award was conceived in 1988 to give recognition to men and women for their exemplary achievements that benefit the people and country. (PNA)