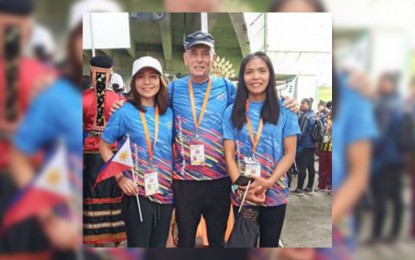 BAGUIO CITY – Their South East Asian Games (SEAG) days are over but the former queens of javelin and marathon are still forces to reckon with as they won their events in the 21st Asia Masters Athletics Championships (AMAC) in Kuching, Malaysia on Dec. 2.
Erlinda Lavandia won the discus throw event for women 65 years and older, even as Christabel Martes took the 5,000-meter run for women's 40 years old as they powered the Philippine team to a four-gold medal haul on opening day.
Teammates Nheann Barcena and Sixto Ducay also won the 5-kilometer events for 35 years old and 50 years old, respectively, in the event that will conclude on December 7.
"May 10K pa kaming tatakbuhin (We still have the 10K run to compete in)," Martes told the Philippine News Agency (PNA) via a Facebook message on Tuesday.
Martes finished her route in 20 minutes and 1.55 seconds way ahead of Lalita Madhwal of Indonesia and Singaporean Chua Poh Cheng Jayce, who finished with 22.15.87 and 22.19.19 time, respectively.
The four's participation as part of the Philippine Masters Athletics Team to the 21st AMAC was sponsored by the Philippine Sports Commission, the Philippine Track and Field Association and Soleus Watch.
Martes is a four-time Milo Marathon national finals winner and top medal hauler of the SEAG marathon in 2001 and 2005.
She is born and raised in La Trinidad, Benguet, and a Benguet State University alumna.
Lavandia, a retired police major, won four gold medals - javelin, discus and hammer throws, and shotput - in the South East Asia Athletic Championship held in Singapore last May 4 to 5.
The former SEAG javelin queen, Lavandia, originally from Surigao del Sur, won the event in 1977, 1979, 1981 and 1985.
In 1979, she joined the Gintong Alay program of the late president Ferdinand Marcos under Michael Keon.
From then, she found Baguio her home while also serving with the Philippine National Police. (PNA)