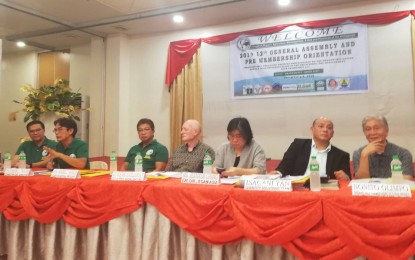 ILOILO CITY -- The League of Organic Agriculture Municipalities, Cities, and Provinces of the Philippines (LOAMCP-PH) said the thrust on organic agriculture is synonymous with good governance and can be one way to address the insurgency problem in the country.
The LOAMCP-PH brought together the local chief executives and local government unit focal persons for its 12th General Assembly at the Grand Hotel here on Wednesday.
LOAMCP-PH is a non-profit and non-governmental organization composed of local chief executives of municipalities, cities, and provinces from Luzon, the Visayas, and Mindanao that aims to promote sustainable organic agriculture development in the country.
In a press conference on Wednesday here, Rommel Arnado, national president of LOAMCP-PH, underscored that organic agriculture can decrease the rate of poverty and address other concerns in a locality.
Arnado, the municipal mayor of Kauswagan town, Lanao del Norte, said the thrust of the municipality on farming has addressed the root causes of conflict which are food, insecurity, poverty, among others.
"We were attacked twice by the Moro Islamic Liberation Front (MILF). The municipality was depressed. There is an economic stalemate, no work, the kids cannot go to school, and there is no production of food," Arnado said.
The municipality has been affected by atrocities after 2002 when the government declared an "all-out-war" against the MILF.
In 2010, Arnado said the town stepped in through its program dubbed "From Arms to Farms: Walking to the Paths of Peace".
The same thrust can also be applicable in the present, especially with Executive Order 70 or the whole-of-nation approach in ending the communist insurgency.
"The EO 70 of the President (Rodrigo Duterte) is to deliver the services of the government. Number one is food," he said.
"(If) all the mayors addressing food in their municipalities, it addresses a lot of issues," he added.
Among the concerns that can be answered through organic agriculture are poverty rate decrease, the establishment of farm-to-market roads, regeneration of the soil, and solid waste management.
With this, Arnado has encouraged local chief executives to also become members of the LOAMCP-PH.
On May 20, 2019, Department of the Interior and Local Government Secretary Eduardo Año released Memorandum Circular 2019-70 urging all city and municipal mayors to become a member of the league.
"All local chief executives are directed to become members of the LOAMCP-PH. The participation and support of all LGUs to this endeavor are integral in pursuing sustainable organic agriculture in the country," according to the Memorandum Circular.
Arnado said the league expects local chief executives to be part of the advocacy following the memorandum. "We are happy that this is promoted and supported by the DILG," he said.
The LOAMCP-PH has six member municipalities in Western Visayas. These are the towns of New Lucena, Tubungan, Cabatuan, and Lambunao in Iloilo; Altavas in Aklan; and Jordan in Guimaras. (PNA)