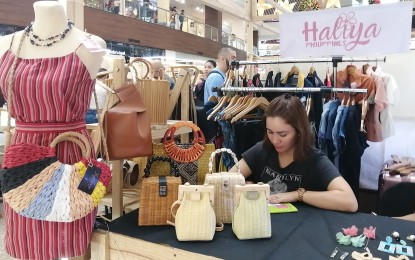 MANILA-- A Filipina entrepreneur has launched a clothing line named after a Filipino warrior goddess "Haliya" from the Bicol region, in the hope of promoting local weaving products of the Philippines.
The clothing line, according to owner Sofia Loren Abdurajak, supports the weaving industry and promotes products from the Cordillera region and in Mindanao.
"Haliya Philippines is a clothing line which features clothes embedded with Cordilleran and Mindanaon weaves, specifically we have the Yakan weaves from Mindanao and weaves from different indigenous tribes in Cordillera such Abra, Ifugao and many more," she said, adding her team would like "to incorporate the Filipino textile to the modern fashion today".
She said these clothes should not only be worn as costumes or attire during formal occasions, but Filipinos should also be proud of wearing this kind of clothes as casual wear on a daily basis.
Abdurajak was born and raised in Baguio City where she patterned the business after the Cordilleran weaves.
As her husband is a native of Zamboanga, she considered the idea of collaborating with the Yakan weavers near Zamboanga areas for her project.
"I am getting textiles from them and do craft designs," she shared.
Abdurajak said she wants to bolster Filipino ethnic textiles and raise awareness of the country's rich cultures by incorporating weaving patterns in modern clothing.
"We need to revive the weaving industry in the Philippines to support the livelihood of the traditional weavers in the country," she said.
While the products being sold are a little bit pricey, she feels happy when people appreciate the Haliya products, as she is already meeting her goal of reintroducing the unique local identity of the Filipinos.
"These are hand-crafted from designs, colors, and textures by the weavers," she said.
Abdurajak said supporting locally-weaved products and other Filipino craft promotes our unique customs.
She said it is one way of preserving the rich, colorful, and century-old Filipino traditions for the benefit of passing it to the young generation.
"I am encouraging everyone to pass the beauty of our Filipino way of life by supporting not only the Haliya PH but also all of our local Filipino products," she said.
The weaving culture, she said, has the power to unite people as strong, resilient communities bound by living tradition and colorful textile patterns and motifs.
Haliya PH joined the three-day gift-giving edition trade fair of the Manila Partisan at the Ground floor of Glorietta 2, Ayala Center, Makati City on December 3 to 5. (PNA)