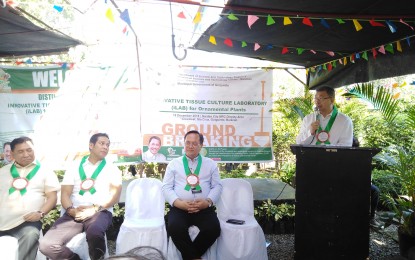 GUIGUINTO, Bulacan -- The first Innovative Tissue Culture Laboratory (iLAB) for ornamental plants in this province will soon rise in Barangay Sta. Cruz here.
Department of Science and Technology (DOST) Secretary Fortunato Dela Peña, together with DOST-3 (Central Luzon) Regional Director Julius Caesar V. Sicat, Bulacan Governor Daniel Fernando, and Guiguinto Mayor Ambrosio Cruz, led the groundbreaking ceremony on Wednesday for the construction of the first commercial plant tissue culture laboratory in the province.
Dela Peña cited the thriving business of garden or ornamental plants in this town, which he said can be further enhanced through the introduction of new product lines, the target of new market segments and expansion of territory.
"This new technology and through this Innovative Tissue Culture Laboratory that is going to be put up in this town, will create more opportunities in global trading that will give benefits to growers, farmers and garden and ornamental plant owners," he said.
He said that through tissue culture, a single plant can produce more planting materials or fruit trees that propagate from vegetative parts.
"In tissue culture, the number of planting roots is more. This tissue culture will benefit not only those garden owners but also students here in the province of Bulacan," he added.
Sicat said the project is a collaborative effort between the DOST and the local government unit of Guiguinto as a way to assist and promote the ornamental plant gardeners of this town.
He said the DOST regional office has donated PHP2,790,823 as an aid for the construction of the tissue culture laboratory.
With the introduction of the tissue culture laboratory, Cruz said he expects some 250 plant gardeners here to achieve national prominence and eventually, be recognized globally for its innovation efforts.
The innovative tissue culture laboratory for ornamental plants is set to rise at the Garden City Multi-Purpose Cooperative display area at the North Luzon Expressway Cloverleaf here.
The construction of the building will be shouldered by the LGU while the laboratory equipment, supplies and personnel will be provided by DOST through its Grants-In-Aid program which was approved last September 13.
Fernando thanked the DOST for putting the first tissue culture laboratory for ornamental plants in this booming town of Guiguinto. (PNA)