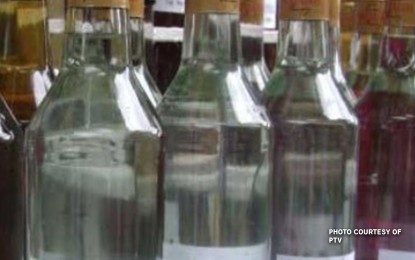 MANILA -- Malacañang on Monday urged the public to carefully assess their liquor purchases following reports that at least 11 people have died and hundreds hospitalized from drinking lambanog (coconut wine) in Laguna and Quezon provinces.
Presidential Spokesperson Salvador Panelo said the Palace was "alarmed" over the reported cases of suspected lambanog poisoning especially during the holidays where alcohol is usually present in parties.
Panelo cautioned the public against purchasing alcohol that is not approved by the Food and Drug Administration (FDA).
"We remind the public that they should always check whether their alcohol purchases, or any product that they consume for that matter, have been registered or approved by the Food and Drug Administration," Panelo said.
"Prudence dictates that we should always be mindful of what we ingest, particularly during this time of merrymaking," he added.
Reports showed that residents from different parts of Rizal started being rushed to hospitals after showing signs of poisoning such as stomach ache, dizziness, and vomiting on Sunday afternoon.
The victims were taken to nearby health centers and hospitals in San Pablo, Laguna while others were brought to the Philippine General Hospital (PGH) in Manila because of the large number of victims.
Laguna police said the victims drank the lambanog bought from a retailer based in Barangay Pook in Rizal town, Laguna.
The owner of a lambanog distillery, Fred Rey, surrendered to authorities on Monday and promised to help shoulder the victims' expenses.
Laguna Governor Ramil Hernandez also ordered a temporary ban on the sale of lambanog across the province.
Quezon police also ordered the shutdown of the store which sold lambanog.
In December last year, a number of people also died from lambanog poisoning.
FDA said the alcoholic beverage tested positive for high levels of methanol, a prohibited additive in Lambanog, and which is suspected to have caused the deaths of some individuals. (PNA)