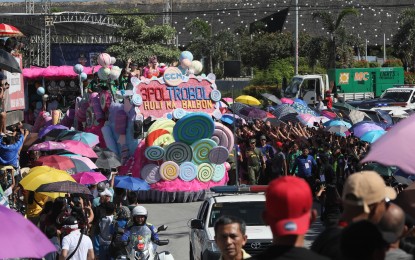 MANILA — To boost support for local films, Cabinet Secretary Karlo Nograles on Saturday encouraged the public to make the viewing of the Metro Manila Film Festival (MMFF) movies an annual family Christmas tradition.
"Filipino children as they grow older are introduced to Filipino literature and authors like Jose Rizal, Francisco Balagtas, and F. Sionil Jose," Nograles, chairperson of the MMFF Board of Jurors for the third straight year, said in a statement.
"I think the same should apply to Filipino films because younger generations will benefit from being exposed to the likes of Brillante Mendoza, Nora Aunor, and Ricky Lee, all of whom have had their work exhibited during the MMFF," he added.
A total of eight films of different genres made it to the annual MMFF, which will run from Dec. 25 until the first week of January 2020.
Awarded the best MMFF film this year was "Mindanao," which bagged 10 awards on Friday night.
The other entries are "Culion," "Miracle in Cell No. 7," "3Pol Trobol: Huli Ka Balbon," "Mission Unstapabol: The Don Identity," "Sunod," "The Mall, The Merrier," and "Write About Love."
Nograles lauded the organizers and participants of the 45th MMFF for their efforts to provide a venue "to showcase Filipino talent and the best of the Philippine film industry."
The Cabinet Secretary said it was a challenge to pick the best film in the MMFF because all of the entries are "outstanding in their own right."
"Kahit anong genre — drama, action, comedy, o horror — magaganda talaga ang mga pelikula. Kitang-kita mo ang galing ng ating mga kababayan (Whatever the genre—drama, action, comedy, or horror—the movies are really good. You can really see the outstanding skills of our countrymen)," Nograles said.
Nograles said Filipino artists involved in local television and film productions gain his respect, especially when he was given the chance to join a new cooking show called "Kain Na!," which airs every Saturday on PTV4.
"Before, I could only see and appreciate the output of the actors onscreen," he said. "But now that I work with directors, scriptwriters, and production crews on a regular basis, I can say from firsthand experience that our countrymen in the entertainment industry are really some of the best at their craft." (PNA)