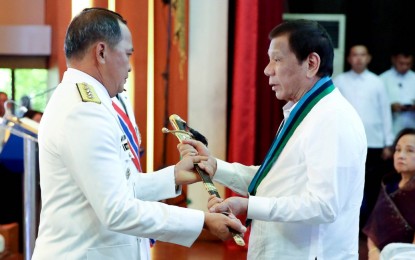 MANILA – Lauding the significant gains of the National Task Force to End Local Communist (lNTF ELCAC), the newly-installed Chief of Staff of the Armed Forces of the Philippines (AFP) is confident that the multi-pronged approach of Executive Order 70 will put an end to the treacherous life cycle of the more than five decades of insurgency.
Speaking during the AFP Change of Command ceremony on Jan. 4, Lt. General Felimon Santos, said unlike in the past when local chief executives left the insurgency problem solely to the AFP and the Philippine National Police (PNP) to deal with, EO involves all government agencies from the national to the barangay level with delineated roles and responsibilities in the whole-of-nation approach.
"Government agencies and their corresponding units at all levels cooperate, interact, support, provide practical solutions and solve problems and issues on the ground that are being exploited by these communist terrorists in order to stir-up our countrymen to fight against our government through armed struggle," Santos said.
He added that EO 70, which was signed by President R. Duterte in December 2018, created NTF ELCAC that institutionalized a whole-of-nation approach in obtaining exclusive and sustainable peace-giving us an effective solution against communist-terrorists.
"This multi-pronged approach addresses the motivation for insurgency and will hopefully put an end to its treacherous life cycle," he said, adding that by doing so, there will be no reason for the Communist Party of the Philippines, its armed wing the New People's Army, and the National Democratic Front to agitate, organize and mobilize the vulnerable sectors and communities.
Good governance
Santos, who headed the military's Eastern Mindanao Command based in Davao City, said he witnessed what EO provides for as it is being actually done in the provinces of Davao Oriental by Governor Nelson Dayanghirang, Davao de Oro by Governor Tyron Uy, Davao del Norte by Governor Edwin Jubahib, and Davao City by Mayor Sara Duterte.
"Good governance practices and the efficient delivery of basic services for their constituents create resilient communities that thwart the return of the communist terrorist groups in their respective provinces and city," he added.
The AFP, he said, can now focus its resources, manpower, and firepower on the remaining communists who persist with armed struggle despite the government's goodwill through cash assistance, livelihood training, and housing.
Santos, who is the 53rd AFP Chief of Staff taking the top military post from retired General Noel Clement, vowed to immediately neutralize groups that insist on seizing political power through armed struggle and other local terrorist groups like Abu Sayyaf.
"We shall effectively counter their narratives through good governance, build community trust and earn the people's respect, he said.
He added that vigilance, support, and cooperation in the local populace are needed in order to suppress and prevent any future terroristic plans from occurring and avoiding the unnecessary loss of human lives and damage to property.
"The AFP should always be battle-ready to counteract any threat that confronts our desire for peace," he said, adding that the AFP remains committed to supporting and working towards a successful implementation of the agreements for the Bangsamoro Autonomous Region in Muslim Mindanao and the peace accord with the Moro National Liberation Front. (PNA)