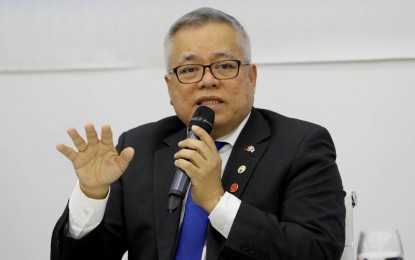 MANILA -- Trade Secretary Ramon Lopez has put forward the Philippines' interest to enhance trade and investment relations with trade officials from East Asian economies and Chile at the sidelines of the 50th World Economic Forum (WEF) in Davos, Switzerland.
In a statement, the Department of Trade and Industry (DTI) said its chief held bilateral talks with trade ministers of Japan, South Korea, and Chile as well as Hong Kong's Secretary for Commerce and Economic Development Edward Yau last week.
In a text message, Lopez told the Philippine News Agency that his discussions with Korean trade minister focused on free trade agreement, while the Regional Comprehensive Economic Partnership and the Japan-Philippines Economic Partnership Agreement for Japanese trade minister.
"For Chile, we discuss on JEC (Joint Economic Committee) and starting of talks for a trading arrangement," he added.
Lopez also met top officials from Tyson Foods, Procter & Gamble, and Novarits in his trip in Davos last week.
He attended the 50th WEF as well as the World Trade Organization (WTO)-related ministerial meetings from January 21 to 24.
Lopez put forward agenda such as technologies in trade, investment facilitation, e-commerce, and agriculture during the forum.
In the WTO-related ministerial meetings, he announced that the Philippines is joining the 98 WTO members in negotiations through the Joint Initiative on Investment Facilitation for Development. This aims to craft new WTO rules to boost investment flows worldwide.
Lopez also attended an agriculture-related meeting on behalf of Agriculture Secretary William Dar.
During the meeting, Lopez called on members to do reforms in market access "to help countries like the Philippines reverse the damage" caused by highly subsidized farm products globally.
"At the Ministerial Meeting on Electronic Commerce on 24 January, the Philippines also officially announced its participation in the ongoing drive of more than 80 WTO Members in crafting future rules on e-commerce in the WTO," the DTI said.
Lopez also attended a gathering in preparation of the 12th WTO Ministerial Conference, where he shared the Philippines' views on ongoing reforms at the WTO.
These include transparency and notification, the functioning of WTO bodies, treatment of developing countries, and the existing negotiating mandate in agriculture under the 19-year-old Doha Round. (PNA)