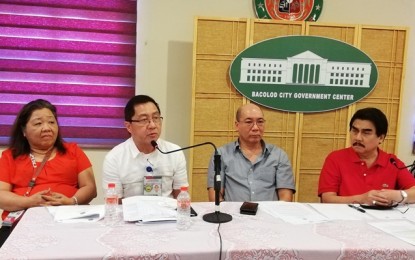 BACOLOD CITY -- Mayor Evelio Leonardia issued on Friday an executive order (EO) creating an inter-agency task force against the novel coronavirus (2019-nCoV).
"There is an urgent need to create a task force dedicated to properly address this rapidly emerging health threat," the mayor said in his EO 2-A.
After issuing the directive, Leonardia met with officials of the 61 barangays at the MassKara Hall of the Government Center to discuss the city's actions regarding the entry of nCoV into the Philippines.
He cited reports stating that as of Friday, a total of 9,720 persons in China have been infected with nCoV, and 213 have died. A total of 80 Chinese nationals have tested positive for the virus outside China, including one in the Philippines.
Leonardia designated Vice Mayor El Cid Familiaran as task force chairperson, with Councilor Cindy Rojas, chair of the City Council committee on health, and Dr. Ma. Carmela Gensoli, city health officer, as vice chairpersons.
He ordered the task force to create a standard protocol in dealing with the threat of nCoV and coordinate with the national and local crisis management committees in addressing the epidemic.
Leonardia sought collaboration with other government agencies and/or offices, private entities, and non-government organizations in combating the new health menace.
"Assess and ensure the preparedness of the city's public and private hospitals to handle a positive case and to immediately set up isolation measures," he added.
Leonardia also directed the 61 villages, public and private schools, and all business establishments to prepare education and information dissemination campaigns on how to prevent the spread of the virus.
He required the task force to update him regularly on its plans and actions.
The task force members include Councilors Dindo Ramos and Lady Gles Pallen, president of the Liga ng mga Barangay.
They are joined by the heads and representatives of the Bacolod City Police Office, Department of the Interior and Local Government, Bureau of Quarantine, Corazon Locsin Montelibano Memorial Regional Hospital, Department of Trade and Industry, Department of Education, Bureau of Immigration, Civil Aviation Authority of the Philippines, Philippine Ports Authority, Philippine Coast Guard, Land Transportation Office, and Hotel and Restaurant Association of Negros Occidental, among others. (PNA)