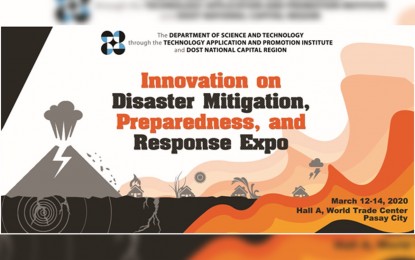 MANILA – Organized by the Technology Application and Promotion Institute of the Department of Science and Technology (DOST-TAPI), the Innovation on Disaster Preparedness and Response Expo will be held on March 11-14 at the World Trade Center in Pasay City.
With the theme, "Science for the People: Safer, Adaptive and Prepared Filipino Communities toward Sustainable Development," the expo will showcase the DOST agencies' technologies, innovations, inventions, and initiatives on disaster risk reduction and management (DRRM).
The Innovation on Disaster Preparedness and Response Expo is aimed at raising awareness of the existing disaster risks and environmental issues that could pose harm and danger to humanity.
"We, at DOST, acknowledge the vulnerable condition of our country and our people to disaster risks as we truly care for everyone's safety," DOST-TAPI director Edgar Garcia said.
Co-organized by the DOST-National Capital Region (NCR), the event will spread hope through the DOST initiatives to mitigate disaster risks for safer communities and to better the lives of the people, particularly of being resilient to disasters.
Among the exhibitors are the Philippine Atmospheric, Geophysical, and Astronomical Services Administration (PAGASA), Philippine Institute of Volcanology and Seismology (Phivolcs), Advanced Science and Technology Institute (ASTI), Philippine Nuclear Research Institute (PNRI), Industrial Technology Development Institute (ITDI), Food and Nutrition Research Institute (FNRI), and the Philippine Council for Industry, Energy, and Emerging Technology Research and Development (PCIEERRD).
The expo is composed of technology exhibits and forum which will be participated by DRRM Officers from various government agencies intended to capacitate them on locally-developed technologies and to strengthen their partnership and coordination among stakeholders.
Admission to the expo is free. (PR)