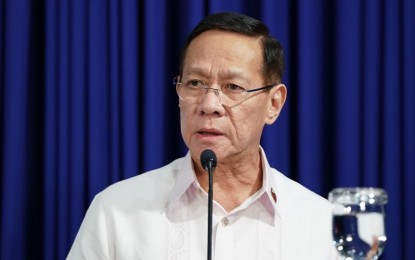 MANILA — The Department of Health (DOH) on Friday reported that patients under investigation (PUIs) admitted in various health facilities for possible coronavirus disease 2019 (Covid-19) are now down to 30 from the previous 64.
Latest data from the agency's tracker showed a total of 588 patients have been discharged while 531 have been tested negative for Covid-19.
"We are observing a steady decrease in the number of PUIs admitted in our health facilities and DOH is bent on sustaining this downward trend. While there is a looming prospect of positive Covid-19 cases among our repatriated kababayans, we call on everyone to continue to be vigilant partners of DOH in keeping the threat of Covid-19 at bay," Health Secretary Francisco Duque III said in a press briefing at the DOH main office in Manila.
On Thursday, the DOH reported a total of 85 confirmed Covid-19 cases among overseas Filipinos (OF) worldwide.
Japan recorded the most OF cases with a total of 80 --70 admitted and 10 discharged -- followed by the United Arab Emirates and Hong Kong with two cases each, and Singapore with one case.
The most recent case was a 29-year-old Filipina admitted at a health facility in Hong Kong who is now in a stable condition.
"Covid-19 continuously affects our kababayans overseas. The Philippine government remains at their service, and would devotedly extend our assistance wherever they are in the world," Duque said.
The World Health Organization (WHO) also reported that the Covid-19 has spread in 37 countries outside of China, but has observed a decline in the number of additional cases globally.
WHO Director-General Dr. Tedros Adhanom Ghebreyesus particularly noted that nine countries, including the Philippines, reported no new cases of the disease for more than two weeks.
"On the possibility of pandemic, I don't think the threshold has been reached to say that a pandemic is nearly happening. We have a decreasing (number of) PUIs, only 30, a decreasing number of negatives, hopefully that trend continues, and, so far, we have adequate preparedness," Duque said.
Duque added that the health workers attending to the PUIs in health facilities nationwide and to the repatriates in the quarantine facility are provided with enough personal protective equipment.
"We have the commitment by the Department of Trade and Industry that the manufacturing company in Bataan Export Processing Zone has committed 200,000 masks a week for the DOH," he said. (PNA)