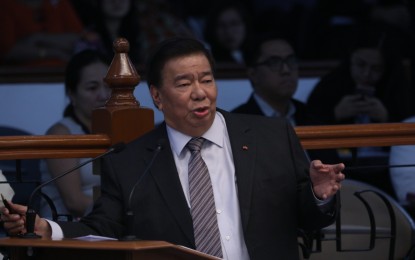 MANILA – Senate Minority Leader Franklin Drilon on Wednesday said money-laundering issues associated with the rise of Philippine offshore gaming operators (POGOs) could only be solved with the closure of the POGO industry in the country.
In a radio interview, Drilon said the proliferation of POGOs has made it possible for organized syndicates to make the country as a "laundry shop" for their dirty money.
"Ginagawa tayong labandera. Yung ating banking system, the financial system in general, ay ginagawang washing machine kung saan yung maruruming pera na kung saan-saang panig ng mundo nanggaling ay dinadala dito sa bansa at ipapasok sa casino o bangko o kung saan man at paglabas ay malinis na (We are being made as laundrywomen. Our banking system, the financial system in general, is being used as a washing machine, where dirty money coming from every part of the globe is brought in, placed in casinos, banks or anywhere, and come out clean)," Drilon said.
"Sa akin po, hindi ba nag-umpisa ito lahat ng magtayo ng POGOs sa ating bansa (For me, isn't it that this started when POGOS were established in the country)? For me, the solution is we stop POGO. It does not bring us any substantial benefit," he said.
Drilon made the remarks after Senator Richard Gordon derided the money-laundering issues arising from the prevalence of POGOs in the country.
In a privilege speech Tuesday, Gordon pointed out that USD470 million was brought in by 47 individuals, mostly Chinese nationals, from September 2019 to February 2020 without being flagged, which he said is "an apparent scheme of money laundering."
He warned that money laundering is a "threat to national security" because it can be used to fund organized crimes, destabilize governments and erode the integrity of the nation's financial institutions.
Gordon said dirty money is also a "threat to our economy" because it can cause artificial inflation.
The Senate Blue Ribbon Committee, which he chairs, is set to investigate on Thursday (March 5) the influx of foreign cash into the country. (PNA)